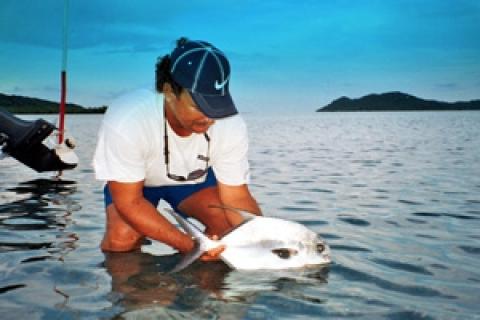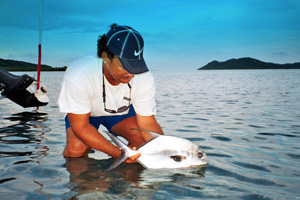 Many of you may not have heard much about Roatan. This island and a few others comprise the Bay Islands that lie about 40 miles north of the Caribbean coast of Honduras. If you traced a southward-moving line through the more famous islands off Belize, then traced that line eastward by following the perpendicular shift of the landmass, you'd find Roatan.
The three characteristics that almost compelled me to visit Roatan were the following: Firstly, unlike most other Mexican and Belizean islands, Roatan's environment was lush, mountainous, and undeveloped. A friend told me that you could sleep on the beaches next to the mountains under brilliant starry skies and wake up to little clouds of hummingbirds as a prelude to your day of fishing. Secondly, the waters of Roatan boasted coral reefs second to none in the Caribbean, and the best thing was that this treasure was a mere 50 yards offshore! Imagine what a nice snorkel break this could provide during a day of flats fishing. Because Roatan has a diver's emphasis, it has fishing habitat that is relatively unpressured — this is the third big feature. My research yielded stories about flats that offered plenty of tailing permit, bonefish and ocean tally. Its mangrove-lined bights were said to house plenty of small snook and tarpon. Last but not least, Roatan's drop-off is so quick; you'd be hooking tuna and wahoo five minutes from the shoreline.
This was my first trip and I was able to book a non-stop flight on Solair from Miami. Since that time subsequent trips on carriers like Taca had to make one stop in Honduras, with a connecting flight to Roatan. I booked Kevin Bodden, who was widely reputed to be Roatan's top flats guide.
Since my trip was during Roatan's "rainy" season, which corresponds to Florida's winter season, Kevin and I encountered showers about half of the time. There was rarely much thunder and the fish seemed not in the least bothered by the rain. I spent three days fishing, and the other two sightseeing in the mountains, shooting film and snorkeling. Those three days of fishing provided more than enough action.
I cannot recall seeing more tailing permit anywhere, Belize included. Sometimes I would see six schools of a dozen fish each inside a football-sized field of flats. A properly cast live hermit crab was grabbed about half of the time. The flat calm waters of the rainy season made our challenge greater. My biggest permit that I hooked was over 20 pounds and was lost when the fish frizbeed itself up and over the reef and down the drop-off. The same for an ocean tally of 10 pounds hooked on light spin.
In between the tailing permit were schools of bonefish to 6 pounds, and small pods of tailing ocean tallies to 15 pounds. I caught and released more than enough bonefish and permit on those flats. All three species of tailing fish were numerous. In the remaining days we explored the mangrove-lined bights, bays and creeks for snook and tarpon. The fish were there, but were especially receptive to bonefish-sized bucktails tipped with shrimp fished on a 30-pound fluorocarbon leader.