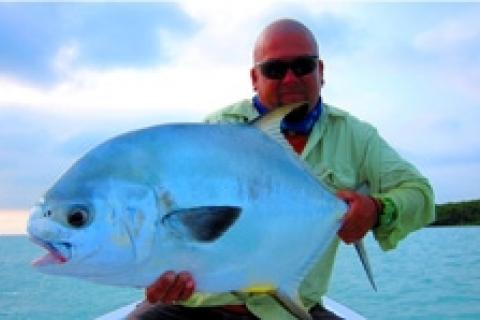 I've recently returned from a gem of a destination, El Pescador Lodge and Villas. It is located in Ambergris Caye, Belize. Getting there is simple — most any major American city that serves as a hub should fly to Belize City. From there either you-or the lodge- can arrange for your scenic seventeen minute flight to San Pedro, Ambergris Caye to the north. The two airlines that do transfer flights are Tropic Air or Mayan Air.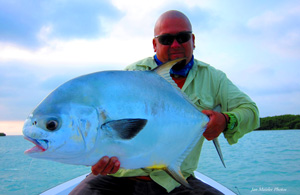 There are many permit to be caught and released in Belize.
I opted to have the lodge arrange for my transfer flight to Ambergris Caye with Tropic Air. El Pescador also arranges and provides for a quick taxi pickup and minute long drive to the dock as well as boat ride to the lodge. The flight from Miami to Belize City and on to Ambergris Caye was sunny and relatively cloudless, providing for some excellent vistas. Once I arrived on the caye, I gathered my luggage and was taken by the pre-arranged taxi to the dock, where the transfer boat was waiting. The ride to the lodge was only two miles away and gave me a chance to enjoy a complimentary ice-cold Belikin beer on the ride there.
My stay there would be for three days of flats and light tackle channel fishing. My guides were rotated and consisted of Ed, the Fishing Program director, Cesar and Emir. The arrival and check-in at the lodge was quick, prompt, and courteous. My room was a beautiful second story air conditioned bedroom overlooking the Caribbean. The interior was beautiful and finished with Mayan-style touches.
Starting with the lunch I soon sat down to, it was clear that the cuisine would prove to be some of the most delicious in the region. I was happy to see such a wonderful array of offerings that included fresh fish, stone crabs, lots of fresh fruit, and breakfasts and lunches that featured Mexican favorites like huevos rancheros and local delights like fresh shrimp burritos. You know that you're in a five-star destination when your recollections add fine cuisine and libations to your already-full inventory of angling and scenic images.
As I was familiarized with El Pescador's offerings, I was impressed with the lodge's wonderful "something for everyone" approach that would satisfy divers, loungers, eco-tourists in addition to anglers and their friends and family. While the Fishing Program is extensive with many guides and pangas, the lodge has plenty of eco-adventures for folks seeking other memory-making moments.
During my three days of fishing, I caught plenty of bonefish to 5 pounds, a 19- pound permit and two big jack crevalles over 20 pounds. It's good to know that El Pescador is also happy to guide spin fishermen as well as fly fishers. The fishery is superb and demands more than one visit to El Pescador to fully experience. I, for one, will surely be going back.
I've also recently learned that El Pescador was honored by Orvis as the 2013 International Destination of the year.