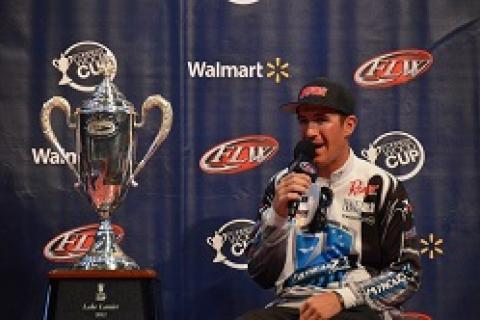 Rapala pro Jacob Wheeler answers Five Questions for 1Source
Our victim this week for Five Questions is the former Forrest Wood Cup champion, Plano/Frabill pro Jacob Wheeler. Wheeler was in the middle of zeroing in on a killer dogfish pattern on Lake Okeechobee and took time to chat and answering the most thought provoking questions known to the fishing community. Continue reading, if you dare!
1Source What is your preferred technique for catching bass? 
JW - It would have to be a topwater approach. Like a Rapala X-Rap Prop. All of my major victories have had some sort of topwater fishing involved. Now, topwater is not the method I'd say is the most versatile, but it is what I like to do. If you don't like catching them on top I'm not sure why you fish for bass. I'd fish it 24/7 if I thought it would always work.
1Source - Country or rock music?
JW - Growing up in a city you'd think I was all rock, but I actually prefer country. Artists like Luke Bryan. Country is what I started listening to when I was younger and it seems to be what I generally tune into on the road. Although, I like rock music, rap, hip hop, pretty much everything is on my radio at one time or the other.
1Source - Basketball or baseball?
JW - I am from Indiana you know, it has to be basketball. In particular, college basketball. There is such a rich history in my state. Also, there is no major league baseball team in Indiana, so that may also have an impact on why basketball is so popular. With the Hoosiers and the Pacers, plus Purdue and other university teams, basketball is the deal.
1Source - Steak or seafood?
JW - Sushi! I know I'm from a steak-eating part of the country, but hey, I'm a bit different. If I can find good sushi, I'd eat it at least twice a week.
1Source- Are you a fan of co-anglers in pro fishing?
JW - Hmmm. There are good and bad points to co-anglers. As far as the co-anglers go, they get a lot out of fishing with a pro. It is a way to grow the sport, I suppose. Many top pros are former co-anglers. Overall, the concept is good for the sport. Sometimes a co-angler can actually help a pro do well. If that pro isn't on anything and the co-angler is dialed in, the pro gets help. I don't like that at all. That gives the pro an unfair advantage. I think the co-anglers should be part of the sport, but at the FLW Series and BFL level, not at the Pro level.