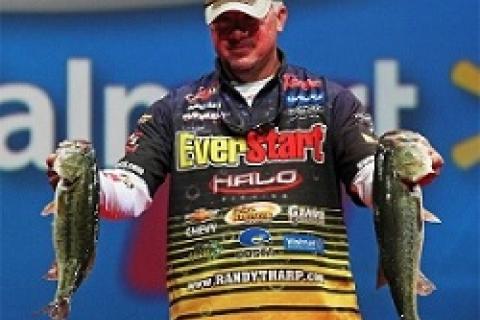 Power-Pole pro Randall Tharp talks about the 2014 season with Bass Pro 1Source
The reigning Forrest Wood Cup Champion, Ranger/Evinrude pro Randall Tharp, would like to become the undisputed heavyweight bass fishing champion by taking home the Bassmaster Classic title in February on a lake he grew up fishing, Guntersville. The funny thing is that Tharp didn't have his sights set on the Classic during his qualifying season. His pre-season goals last year where to qualify for the Bassmaster Elites and win the Forrest Wood Cup. He did both, but the cherry on top of his tournament fishing sundae is the Classic berth.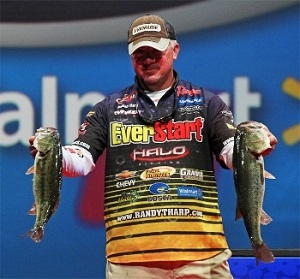 "For me, the Classic is a golden opportunity," said Tharp. "I grew up fishing Lake Guntersville. I am excited. It didn't register what was fixing to happen until my meeting at the B.A.S.S. offices. I saw the Bassmaster Classic trophy and my mouth started watering.
"My goals starting last year were to win the Forrest Wood Cup and to qualify to fish the Bassmaster Elite Series. I did both, but with an Open win on Ross Barnett, I now am fishing the Classic, on a home lake. I am really excited about the opportunity."
Confidence is key for success in the bass fishing biz.
"This is not the first time I've qualified to fish the Elite Series," said Tharp. "When I qualified five years ago, I passed on it and stuck with the FLW Tour. At the B.A.S.S. meetings a lot of guys said I would have done even better if I decided to fish the Elites. I'm not sure about that. I've made over 1.5 million in winnings in the time period. I felt confident then that was the right decision. I feel confident now that fishing both trails is the right decision now at this stage of my career. I feel I need to fish both. Doing this will make me a much higher profile angler.
"Of course I had to leave my FLW team deal and fishing 18 majors is a new challenge as well, but I am excited about it."
The frequent flyer.
"I haven't fished much this winter," said Tharp. "I've spent most of it in a plane traveling across the country either giving seminars or motivational speeches. That is what you get after winning the Forrest Wood Cup.
"This winter has been hectic. All of the travel, working to get new sponsorship deals, etc. Plus, my boat is in Orlando getting wrapped and my truck is in Auburn, Alabama. I'm all over the place. I can't wait to get started with this season."
Tharp on practice.
"I am not a big believer in extended practice," said Tharp. "The problem with extended practice is you get preconceived notions about what to do. Once the official practice days start, you waste a day trying to make the previous techniques work instead of fishing the moment. It is human nature, we all do it, I don't care who you are.
"Prime examples of not practicing much paying off are my Forrest Wood Cup win and my Open win at Ross Barnett. I didn't practice the last day at the Cup and that turned out well. At the Open on Ross Barnett, my wife was getting concerned. She told me I had a lot on the line trying to qualify for the Elites. I told her it's all good, I got this. I had a really good feel. I won the event and qualified for the Elites and the Classic. The less preconceived notions you have heading into a tournament the better off you are."