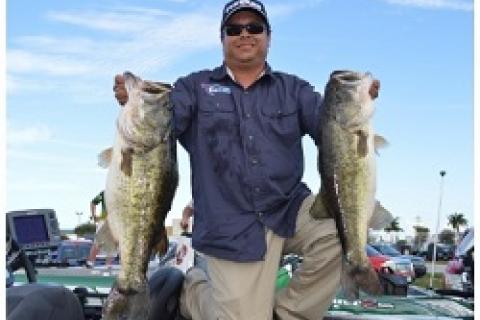 On Day 3 the FLW Tour event at Lake Okeechobee slid on over to Clewiston, Florida from the landing on the big lake. There were some impressive Bass brought to the stage including Pro James Watson's 8 pound 5 ounce brute.
A nice crowd greeted the pros and FLW Tour emcee Chris Jones. Jones was at the top of his game today offering up one of the finest renditions ever heard of WWE Hall of Famer Ric Flair's famous,  "WOO!"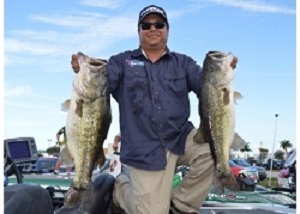 Also at the top of his game today was Humminbird pro Brett Hite
In three days, Hite has amassed 74 pounds, 3 ounces to retain first place. In a distant second is Halo pro Randall Tharp. Tharp is 12 pounds, 3 ounces behind Hite with 62 pounds. Mercury pro James Watson popped 22 pounds 4 ounces to put him in third with 60 pounds 2 ounces.
Rounding out the Top 5: in fourth is Ranger Boats pro Leon Williams with 59 pounds, 2 ounces, and in fifth Pop Tarts pro Greg Bohannan, weighing in 59 pounds, 1 ounce
Hite focused
"I like fishing shallow water grass," said Hite. "I go out and I am focused on what I'm gonna do and I go do it. After winning an event and having a spell of four or five years without winning makes being in position to win another tournament pretty special.
"Tomorrow I won't be thinking about Randall Tharp. We are friends, but I have my own deal and Randall has his own. We'll let the bass decide. I will be focused on my job, catching five big bass."
Tharp digs Okeechobee "I don't know what it is about this lake," said Tharp. "Since the very first time I came here, I've caught them. I am happy I have put myself in a position that I can win. I grabbed my flipping stick and have been flipping to anything I can find to fish out there. I know the big girls hide under the mats here. Hopefully I find five of them tomorrow. I haven't caught a 30-pound limit, maybe tomorrow.
"Brett Hite is my buddy. I'd like to see him win, but I like to beat him even more."
Watson confident in his fish
.Mercury pro James Watson boated the biggest fish of his life: 8 pounds, 5 ounces.
"I think my area will hold up tomorrow," said Watson. "I've been randomly catching a big fish each day and I did it again today. Today I caught my 8-pounder with a spinnerbait. I was fishing it in slick water. And, I was running the bait fast, in fact burning it as fast as I could. That fish crushed it. That isn't supposed to work when the conditions are so calm. That was the biggest bass I've ever caught. My hands are torn up this week from catching so many fish."
The tournament wraps up tomorrow. Stay tuned here at 1Source for a full report!