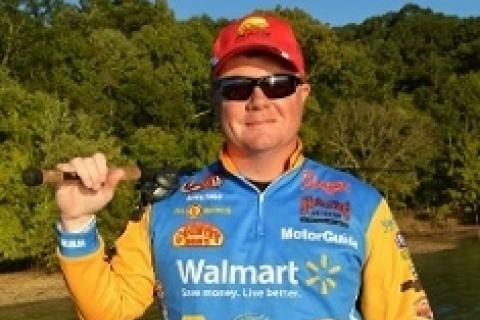 It's the off-season for tournament coverage, so it's time to rev up the Pros41Source Five Questions engine and see who's brave enough to step up and answer the in-depth, soul-searching, poignant... Ah heck, it's just five questions for a person in the fishing biz.
This time around, Plano/Mercury pro Mark Rose answers the Five Questions.
    

Pros41Source - Why do you fish?
MR - I fish professionally because it gives me a platform to share the love of Jesus Christ with others. It is my heartbeat. My faith in Christ is very strong. As far as why I fish in general, I started as a little boy. I am passionate about the outdoors. Fishing has been part of my lifestyle and my family's lifestyle since I can remember.
I also enjoy the competition. I played college baseball and always enjoyed competing. I was a centerfielder and pretty good. I was being scouted, but then I tore ligaments in both my ankles. It took a lot away from my game. I knew I could finish my college career, but would never make it to the majors.
Competitive fishing lets me merge my joy of fishing, competition and my love and passion for Christ all in one.
 
Pros41Source - What is your favorite meal to eat?
MR - Over the years I've been to many special places on the road. Lots of good food, too, but nothing compares to Corky's Barbecue in Memphis, TN. That pulled pork sandwich is my favorite. There's something about the way they prepare it. It's traditional Memphis barbecue, but they do something that makes it special.
Now, as far as eating at home, fried crappies and taters.
Pros41Source - Are you a political junkie?
MR - I'm not political at all. I'll have friends talking about the healthcare deal at a tournament and I just don't talk about it much. I guess it's my faith in Christ that keeps me grounded. I'm more into enjoying the outdoor lifestyle and the serenity it provides than getting caught up in politics.
Pros41Source - When did you know you had skills as a pro angler?
MR - I still question if I have any skills. Seriously though, about 6 years into my fishing career I started to realize I could do this well. I had a lot to learn starting out. I grew up fishing for a variety of things and had a lot of outdoor skills coming into the sport.
After about 5 or 6 years of getting my brains beat in, it finally clicked for me. I learned to be versatile and consistent in my tournament fishing. If yo'are not versatile at this level of the sport, you won't last for long.
Pros41Source - Where do you see yourself in 5 years?
MR - I still think I have about 10 years of salt left in me. I believe I'll be able to compete for another 10 years or so. After that I'll be trying to find a Wal-Mart greeter job, so I can afford to buy minnows and be able to keep fishing.
When I walk away from the sport, that will be it. People will ask "Whatever happened to Mark Rose?" There will be a wind blowing out of Arkansas. and it'll let you know I'm outdoors somewhere, fishing or hunting and enjoying the outdoors.