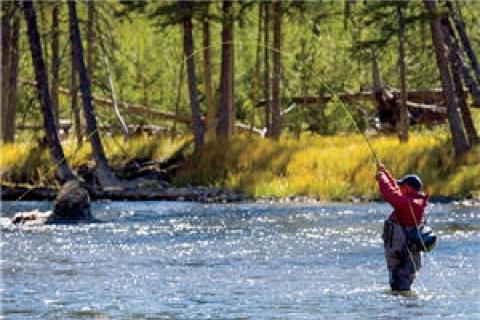 Having had the chance to test St. Croix's Legend X fly rod in a variety of venues during the past several months, I can say it's one sleek fly rod.  If it had four wheels it would be a muscle car, yet one quite comfortable running down to the corner market to pick up the fixings for the day's streamside fishing lunch.


The Legend X is designed for targeting larger predatory fish – bass, muskies, northerns – big fish that often require the use of beefier, wind-resistant flies.  It's a nine-footer that's offered in four models, ones meant to throw 7-weight to 10-weight fishing lines.



When you need some muscle when fly fishing for bass, pike or muskies, give the St. Croix Legend X fly rod a try.
The spring, when largemouth bass where moving into the shallows during early-season feeding forays, I used the 7-weight model Legend X to catch green bass on Clouser Minnows and topwater popping bugs.  Since all of my other fly rods are softer action – and perform well in the tighter quarters I normally fish – it took a few minutes to get in synch with the Legend X.  But when I adjusted the acceleration of my back cast and forward cast – and properly loaded the rod – I was throwing tight casts that launched.


A week later I was on a Great Lakes tributary where a run of late season steelhead had just entered the creek.  The Legend X did an acceptable job of roll-casting the two-fly rigging and bulky strike indicator used that day.  This isn't what the rod is designed for – my softer 10- foot St. Croix Imperial is a great choice for that application – but if you're looking to get multiple uses from the rod, and only make one or two steelhead outings a year, the Legend X will do the job.  And if you decide to switch over from drifting egg patterns to casting streamers, the rod is perfect.


A week ago, my friend Tom Ference joined me for an evening's fishing on a smallmouth bass river – one that averages about 150 feet across.  Tom's an extremely talented fly fisher and has competed in ESPN's Outdoor Games in distance casting.  After fly fishing with the Legend X, Tom was impressed.


"First impressions are not always accurate. But in the case of my first outing using St Croix's new Legend X series, it was extremely accurate.  Accurate casting, along with my initial thoughts of it being a cool looking and nice feeling rod. 


"I began my evening fishing with a lightly-weighted size 2 streamer tied to an 8-pound-test leader.  With a couple of 70 foot casts under my belt, I decided to give it a go with some longer ones.  I was very pleased to see that it was more than ready to pump out a 100-foot cast with a minimum effort on my part.  Very nice."


I agree with Tom. Anglers looking for the latest in technology in rod building, good looks, and high performance at a reasonable price, should give the Legend X serious consideration.


For the latest fly fishing equipment, check out Bass Pro Shops huge assorment of quality Fly Fishing rods, reels, flies and more!.