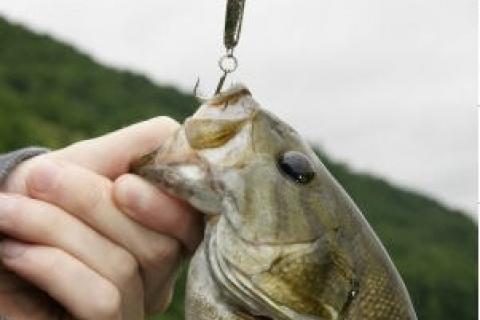 After launching my boat in the river the other day, my sonar unit registered a water temp of 35 degrees—Burrr!  Gamefish such as bass, walleye, crappie, and yellow perch can still be caught in frigid water, but it's often necessary to hang something right in their face.  When they are schooling along major structures and deep edges the most productive "something" is typically a jigging spoon.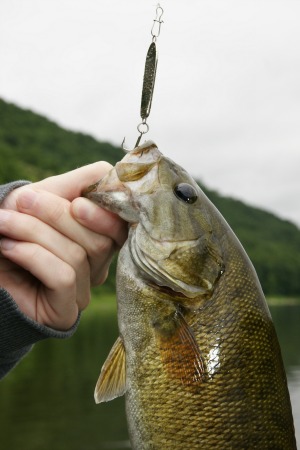 Spoon-Fed Smallie: This cold-water smallmouth fell victim to the enticing "hang" of a jigging spoon.
Here are a few tips for fishing with a jigging spoon in cold water:


Track 'Em Down


The objective is to jig your spoon vertically in front of relatively inactive fish.  This is a situation where it really pays to locate fish on your sonar unit first. This is not a cover-the-water tactic.


Just Hang Out


While it's okay to experiment with various jigging cadences and strokes, many days the most productive approach will be to impart relatively mild, short strokes that lift the spoon a foot or less off of the bottom.  Allow the spoon to hang for several seconds before the next jig stroke— similar to pausing a suspending jerkbait.  Many hits will come on this "hang."  


Bang the Bottom


It's important to keep the spoon close to the bottom.  Every half dozen strokes or so allow the spoon to sink.  Doing this not only confirms that you're targeting the prime zone—within a foot or so of the bottom—but it can also trigger strikes.  Think of it as a similar tactic to impacting cover with a square bill or spinnerbait.


Liven Things Up


Some days it helps to tip one tine of the treble hook with a small minnow, such as a tiny fathead.  The added scent and flavor can be just what it takes to turn a slow day around.


Don't Get Twisted


Vertically jigging a spoon is a real line twister.  Many headaches can be avoided by using a quality snap and swivel.  Create a short leader by tying in a foot of monofilament between these two items.  


While it may take a while to get the hang of it, jigging spoon action can be fast and furious.  A willing school can provide a quick limit and lasting action. Nothing warms the hands on a frigid day like a hot bite!