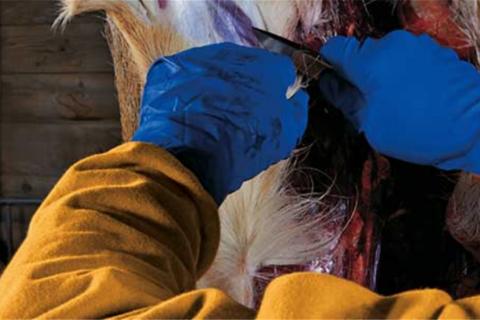 Cabela's Ambassador Jim Shockey clues you in to the one thing he's never without on a hunt.
Taking an animal from the field to the freezer is a big task, but one that's easily doable for the DIY hunter willing to take on a challenge. All it takes is a little knowledge and the right gear for the task. Here are five things every sportsman should have on hand when breaking down everything from big game to
wild birds.
Skinner Knife -
Once an animal is hanging, the first step is to remove the hide. A good skinning knife like the TOPS Knives Quick Sknin Fixed-Blade Knife, with a sweeping edge and deep belly, is a must. Few things dull a blade like cutting through hide or hair, so opt for steel with a higher carbon count, but one not so hard it's difficult to re-sharpen.
Boning Knife –
A 5" boning knife like the Wüsthof Gourmet 5'' Boning Knife with a stout blade is great for breaking down an animal into primary cuts, as you may need to get into the joints and work around heavy bone. It's also nice to have a second boning knife on hand, one with a curved blade 5" or 6" in length, which is great for slicing meat into smaller cuts. Handle shape and material is important too, so look for boning knives with a comfortable, nonslip grip.
Butcher Knife –
A wide, 8" blade might seem like overkill for a deer, but it's the best knife for breaking down bigger cuts. For perfect, evenly cut steaks, just pop the top sirloin and bottom round roasts into the freezer for 30 minutes or so to firm them up, then go at them with this knife.
Game Shears –
A necessity for breaking down birds. Look for game shears like Outdoor Edge with a notch in the heel of the blade to power through leg and wing bones. Scissors that separate into two pieces are easier to clean.
Knife Sharpener and Honing Rod –
Two different tools for two different tasks. The sharpener puts a brand-new edge on extremely dull blades, while the honing rod, or steel, keeps blades sharp with a few quick swipes.
Tip: Shop Knives & Tools at Cabelas.com here