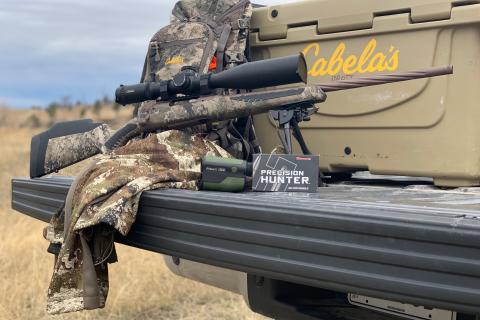 There are some pieces of gear that you just cannot hunt without. The author walks through his favorite gear and explains why he considers them essentials for a whitetail rifle hunt.
By Mat Brost
From Knife, to Binoculars, to Rifle – Whitetail Rifle Hunt Essentials
I break my whitetail-hunting gear into two categories:
1. Essential gear that I cannot leave in the pickup.
2. Helpful, nice-to-have gear that is almost essential, but I can get by without.
Essential Whitetail Gear
For me, essential items are a short list that includes a sharp, quality fixed-blade knife like the Cabela's Alaskan Guide Series Skinner knife and binoculars. These will be in my possession during the entire hunt. Besides a rifle and ammo, that's all I absolutely have to have. If I'm hunting unfamiliar property, or public land in the mountains, a handheld GPS unit would certainly be considered as essential gear as well.
Secondary Whitetail Gear
Secondary, nice-to-have gear would be my rangefinder, spotting scope, a small Havalon knife (I almost consider this essential in addition to my fixed-blade knife), antimicrobial game bags, and a quality backpack to haul everything.
Starting with my essentials, I wanted a rifle that I could hunt deer and antelope with. I also wanted a rifle that could be used for hunting predators. When I'm not big-game hunting, I'm calling coyotes. I've typically used a 22-250 for predator hunting, and a .308 for deer and antelope. This year, I upgraded to the 6.5 Creedmoor. I've reloaded 95 grain Hornady bullets for coyotes. These are larger than I've ever used for predators, but the extended range will be awesome when those coyotes stop at a distance.
Rifle: I've heard only great feedback for Savage's AccuFit system. I've gotten used to adapting to rifles not fitting me great over the last 25 years and hadn't thought about it. That is, until I started hearing all the buzz surrounding the AccuFit comb and length-of-pull adjustments. I picked up the model 110 High Country rifle and couldn't be any more satisfied.
Ammunition: I'm a longtime fan of Hornady's ammunition. As far as factory ammo goes, they're tough to beat for consistency. I went with their Precision Hunter ammo line for the exceptional ballistics of their ELD-X bullet.
Riflescope: I paired my Savage with Cabela's CX Pro HD Riflescope for a tack-driving combo that will suite all my hunting needs. This is the most powerful scope I've ever hunted with, and I wasn't initially sure it was necessary. That all changed as soon as I zeroed it in at 200 yards. I couldn't believe the clarity at 25x zoom, and it certainly was critical in creating a quarter-sized three-shot pattern. The clarity combined with the illuminated, first-focal-plane reticle ensures I'm spot on at any distance.
Binoculars: I've also been using Cabela's CX Pro HD 10x42 binoculars. These are matched with Cabela's Hybrid Binocular Harness. The harness holds them tight to my chest, but they're easily pulled up to my eyes thanks to the perfect design. These binoculars are actually what led me to look into the riflescope. The clarity and durability are unmatched, and the 10x zoom gives me the right balance of frame size and magnification. 8x isn't enough magnification for me during rifle season, and 12x are too heavy when weight is a huge factor on long hikes.
Knife: I've been carrying Cabela's Alaskan Guide Series Ranger Knife for years. This is what I'm talking about when I say "quality knife". It's made by Buck Knives with the best steel I've ever had experience with. It's easy to sharpen and holds an edge better than anything I've ever used. I prefer the shorter blade for field dressing and quartering. I've also found myself grabbing this knife when butchering. Hands down the best all-around knife I have. The other knives in the Alaskan Guide Series use the same steel, it just depends on the blade style you prefer.
Secondary Knife: If I could only carry one knife, it would be my Alaskan Guide Series Ranger. But I can carry as many as I want, so Havalon's Piranta is always clipped to my pocket. I match it with the shorter #60A blades to make skinning and cutting in the field simple. The blades are easy to replace giving you scalpel precision within a matter of seconds.
Rangefinder: I like to occasionally range various landmarks around me so I have a good idea approximately how far I may be shooting. I cannot tell the difference between 200 yards and 450 yards, and I'm even worse when it's farther away. Even with a flat shooting rifle, misjudging a longer range and missing, or even worse, wounding an animal, is inexcusable. For the price – nothing beats Cabela's Intensity Rangefinder. It's extremely accurate and gives you multiple options depending on how you're hunting. This is a great tool that's beneficial across archery and rifle seasons and I appreciate the 6X magnification to help pinpoint targets.
Antimicrobial game bags: When I quarter an animal, it can be tough to keep the meat clean and free from dirt and hair. Cabela's Antimicrobial Game Bags are perfect for dropping a hind quarter in. Not only do they protect the meat from dirt and hair, they prevent the growth of bacteria for a short time until the meat is hung for aging or in a cooler for transport.
Backpack: Quiet, organized and comfortable. That's what I look for in a hunting pack and Cabela's Bow and Rifle Pack excels at all three. You're able to strap your rifle on for long hikes. There's also a rifle rest built right into the pack for taking long shots. I didn't use the rest this year, but am anxious to try it out. There's a spot for everything, and the layout keeps all my gear organized.
This year's season was a great experience. Two of my nieces hunted with us. My brother-in-law's nephew also deer hunted for the first time. Everybody filled their tags. I was fortunate enough to harvest this whitetail ¼ mile from where I got my first ever buck 25 years ago.