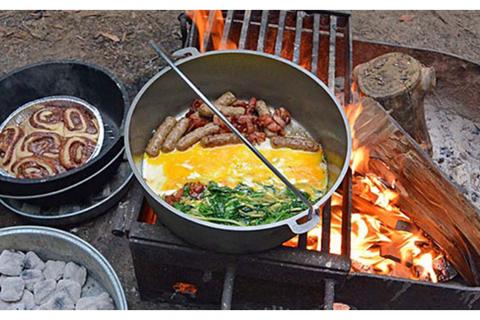 Why dirty several pans for breakfast when you can make the entire meal in one Dutch oven?
Prep Time: 10 minutes ,   Cook Time: 25 minutes ,   Servings: 4-5
One Pot Dutch Oven Breakfast Ingredients
1/2 pound bacon
1/2 pound sausage links
1 cup broccoli slaw
3 cups spinach leaves
5-6 eggs
1/2 cup shredded cheddar cheese
Salt and pepper to taste
Directions to Prepare Dutch Oven Breakfast
1. In a 12- or 14-inch Dutch oven, partially fry bacon over a bed of coals.
2. Move bacon to the edge and fully cook sausages. Remove bacon and sausage, set aside.
3. Sauté broccoli slaw in pan drippings until tender. Salt and pepper to taste.
4. Add spinach and cover for 1 minute.
5. Move vegetables to one edge of the Dutch oven and add bacon and sausage to the opposite edge.
6. Crack five to six eggs into the middle of the Dutch oven and partially scramble. Salt and pepper to taste.
7. Place Dutch oven over five evenly spaced coals and cover. Place 10 to 12 coals on top of the lid.
8. Cook 5-7 minutes or until eggs begin to set.
9. Uncover and sprinkle shredded cheese over eggs. Cover and continue to cook an additional 3-5 minutes or until eggs are fully cooked and cheese is melted.
10. Using only three to five coals on the lid of the Dutch oven, keep warm until ready to serve. 
Shop The Cabela's Cast Iron Dutch Oven Here!