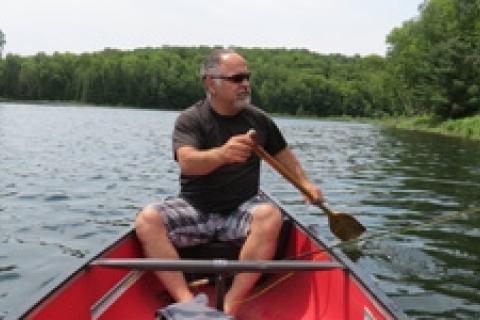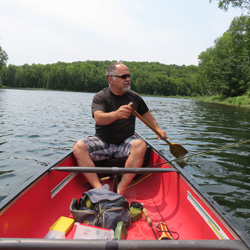 People associate fly fishing with wading and river floats in pontoon boats or larger craft, but they are often surprised to learn that many of us use canoes too.


Canoes, in fact, are a perfect tool for the fly fishing angler in some parts of the U.S. and Canada. The county where I live has 600 named lakes, for instance, and many of them are just the perfect size to cover with a canoe.


These boats provide several advantages. First, they are quiet. In a canoe, you can silently slip within easy casting range of fish or structure that might hold them. They also provide a stable and comfortable casting platform and you don't need to don fishing waders or a vest. Nor do they require a boat launch. A canoe also allows you to cover a lot of water and holds all the gear you need for the day or longer. Better still, they let you fish with a partner and can slip into places other watercraft can't. They are lightweight, easy to portage and require virtually no maintenance from year to year. Those are the main advantages.


The down side is that they are not suited to high waves or heavy winds. Then again, neither is fly fishing.


Fishing from a canoe with a partner also takes a bit of coordination. My rule is that only one person casts at a time. So before I or my fishing buddy casts, we will call it by saying something like "line up." This saves tangled lines and soon becomes second nature. We never stand in a canoe either. Nothing good comes from standing in a canoe.


The other thing to deal with is drift. Canoes don't react well to anchors unless the day is truly calm. (I've never anchored a canoe.) Because of this there is always some drifting going on.


We use this to our advantage by paddling up current or upwind, from the spot or shoreline we want to fish and then drifting past it casting all the way through. And we continue doing that until the spot is no longer producing fish. This often takes a few minor adjustments with the paddle but it can be a great way to cover a shoreline.


Trolling a fly from a canoe is a time honored method in many places too and it works well since you can slow up the speed to suit the purpose.


On river floats, canoes are versatile enough so that you can cover a lot of water and then beach and wade when you hit prime fishable spots, just as you might in a drift boat. They're less stable in stretches of fast water, however.


The plus side of a canoe is that you can portage them into backwood lakes.


Canoes, though old school, remain a valuable asset to the floating fly angler, if only because they provide a low-tech means of taking you to places where other anglers haven't been. If you've got one hanging in the garage and haven't used it for fly fishing, you are missing out.


Give it a try. You'll see what I mean.