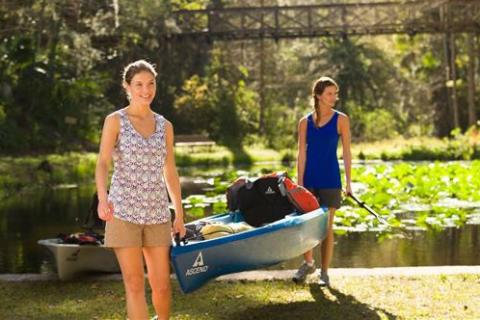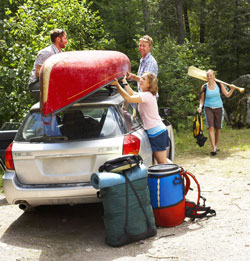 Making the decision to go on a canoe-camping trip is a worthy outdoor commitment. If you're new to this type of camping, beyond choosing what canoe to buy, how to pack it for a multi-day trip is the next big question. This article will help you navigate what gear to take, how to store it and how to load a canoe.

What to Take on the Canoe-Camping Trip

Penning a checklist is the best way to start deciding what you need to take on a canoeing trip. I keep a list on my computer, so when I return from a trip I can add an item I wish I would have packed or note ones that I didn't need to use. To start my canoe-camping prep, I print off a copy and add or remove items that are specific to my next route and itinerary.


A list should include details on the following: camping gear, cooking hardware and fuel, food items with a planned menu for each day, clothes, safety equipment, canoeing gear, and miscellaneous items.


After completing the first draft of your list, go through it and try and remove items that aren't necessities. After all, you'll need to pack all this stuff into a canoe. Most of us have the tendency to over pack, so reducing your gear and traveling light is critical. Now, if you think you successfully trimmed down the list enough, it's time for the next step.

Inspecting Your Gear & Determine What Can Fit Into Your Canoe

Assembling and inspecting all your gear well in advance of any trip is a wise use of your time. You'll likely remember things that need fixing, like a broken jacket zipper, and have plenty of time to take care of these repairs or replenish any supplies. In addition to reminding you of equipment maintenance, laying your camping gear out will help you determine if you can fit all of these items into your canoe. Again, discipline yourself to remove unnecessary gear if possible.

Packing Your Items Into the Canoe

It's a good idea to continue your visual inspection by packing gear into the carry containers you'll use to load the items into the canoe. Many veteran canoeists will tell you to keep like items together. Having designated bags for food, cooking, clothes, first aid and sleeping and camping gear is a good idea. I'll overview the different types of containers in a later section. Remember that if portaging you'll need to carry these things, so it pays to try and keep items in large containers to reduce the number of trips from take-out to the next put-in points.

Test Loading Your Canoe

Continuing on the above step is test loading your canoe with gear. With time, you'll learn the carrying capacity of your canoe, but at first, you'll literally have to practice packing it on your lawn. This step might seem overly meticulous, but it's better to test pack your gear on a sunny day in your backyard and trouble shoot your cargo strategy in comfort. Knowing my luck, if I skipped this step, it'd be raining when I pulled the canoe off my car to load it at the start of my camping trip.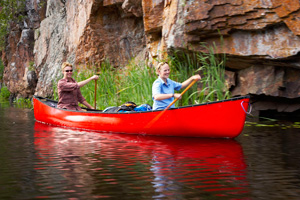 Test packing your gear will also get you thinking about how and where you'll want to place items in the canoe. For example, consider the items you want within arms reach, such as water, sunscreen, bug repellant and a spare paddle. Also take the time during test packing to ensure you have the proper straps and ropes to tie down gear (something I'll discuss later).

Loading Strategy - Fitting Gear Into the Canoe

Beyond the basic loading strategy of fitting all of your camping gear into the canoe, there are more factors to consider. Weight distribution is one. The same principles apply to loading a canoe as do filling a backpack. Put the heaviest items where they will have the least impact on your balance and maneuverability.


In canoeing, this equates to packing the heavy gear on the bottom and in the center of the vessel. Medium-heavy items can be placed over heavier gear, and lighter items can be placed at the far ends of the canoe. This tactic will keep the canoe balanced and properly trimmed. It's likely you may need to shift some weight around once paddlers are in as well, but for the most part, the strategy of centering the majority of the weight is a common practice.


You should also keep the gear below the gunwales of the canoe or limit their height as much as possible. Loading items upwards will impact your balance and the canoe's centre of gravity. It will also provide more surface area for the wind to catch. Both of these two scenarios impact the overall stability and maneuverability of the canoe, which can get dangerous in high winds and rough water.

Tie the Camping Gear Down
Once you load your canoe, secure the gear to prevent it from shifting around. This is critical to maintaining stability in rough water and to ensure you won't lose items in the event of a swamping. That said, use quick-release knots, tie-down straps, and bungee cords to make it easy to remove gear. Keep this step as uncomplicated as possible to make emergency maneuvers or multi-day portages straight forward and simple.

Keeping Camping Gear Dry
It's a matter of fact that water will enter the canoe during a paddle. To keep gear dry, waterproof all items. You can do this two ways. One method is to line regular backpacks and stuff sacks with heavy duty plastic bags, and then pack in your gear. The second is to purchase and store items in heavy-duty, waterproof containers.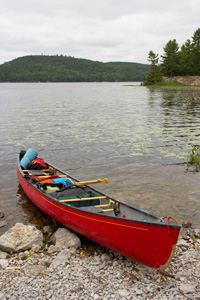 There are many options available when it comes to size, material and shape of waterproof carriers, but most fall into soft- or hard-cased options. Vinyl dry bags come in various sizes, and some feature transparent sides, which is handy to quickly identify items. Boundary bags are a level beyond basic dry bags. Still made with vinyl, boundary bags feature padded shoulder straps to make portaging easy. Hard cases and waterproof boxes come in a variety of shapes and sizes and are good for packing lanterns, stoves, cameras and other fragile items.

Some Final Canoe Camping Tips

The above general practices will help you set off on the right course when packing a canoe, but here are some final tips.

Keep maps, routes, camping permits, and other paperwork handy and stored in a waterproof map case. Secure it to your seat, along with a compass, with some rope.
Always keep your spare paddle within reach. Velcro straps or heavy duty elastic bands are two options that will secure the item, but will also let it break free with a quick pull.
Always have water, sunscreen, bug repellant, a knife and a flashlight within arms reach.
Bring a pair of padded, fingerless gloves to avoid blisters and keep your hands warm when paddling in the rain.
Pack raingear on top — and outside — of plastic bags so you can easily access it when the skies open up.
Knee pads will help keep your joints from getting stiff or sore from kneeling when paddling through rough water.
If you plan on fishing, bring a clamp-on rod holder. If you're concerned about scratching your canoe, place a small piece of marine carpet over top of the gunwales first.
Communicate with your paddling partner at all times.
Invest in a properly fitting and comfortable PFD and wear it at all times.


The above packing tips and planning techniques will help your next outing be a smooth and memorable one. Paddling any waterway is a great way to experience the natural environment and adopt a slower pace to life, one more in tune with nature's rhythms. After successfully loading up your canoe, take your time and enjoy the journey!