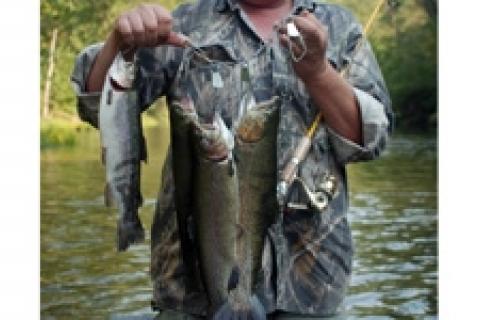 Floating downstream in a canoe or kayak and fishing along the way is a fun outdoor activity that most anyone can easily enjoy. The Current River, in Missouri's Ozark National Scenic Riverways, is an idyllic place for floating and fishing.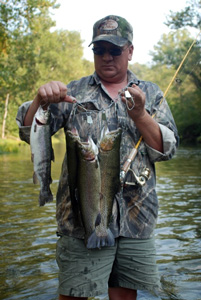 Greg Richardson shows off rainbow trout from the Current River that helped him score a shore lunch from his fishing buddy.
Current River is open all year long and fishing can be good anytime of year. However, the summer months are the times when most people prefer to float. Summertime is also  one of the favored times for fishing. Combining the two is a great way to enjoy a day on the river.


Local canoe liveries offer canoe and kayak rental services for floats from a half-day to a week. It is best to begin with a float not over a day in length to allow you to adjust to the river conditions and the nuances of fishing while floating.


A 9-mile Blue Ribbon trout fishing area exists from just below Montauk State Park to Cedar Grove. Here, only one trout above 18 inches may be kept and only artificial lures, excluding soft plastics fishing lures, are allowed.


From Cedar Grove to Akers Ferry is an 8-mile White Ribbon trout fishing area. Here there are no bait restrictions and a daily limit of four trout of any size may be taken.


The White Ribbon area is popular with floaters who wan to fish and camp along the way. The possibility of enjoying a trout dinner on a gravel bar is excellent.


The Missouri Department of Conservation stocks the river throughout the year. However, stocking schedules are increased during the summer months to meet the increased demands.


Ultra-light tackle is best for trout fishing the river. Two- to 6-pound line is the norm, depending on river conditions. I prefer a 6 /12-foot Bass Pro ultra-light rod rigged with 4- or 6-pound test line. If the water is murky, I go with the heavier line.


A wide variety of lures and baits will bring good results. Small Rooster Tails are effective. Brown, black and greens with gold blades are good search baits. Small Rapala's and similar stick baits also produce. Bait fishermen often utilize PowerBait in a variety of colors. Live baits such as small minnows and crayfish are deadly when drifted down deep pools. A small weight will be needed to keep the baits down.


Smallmouth bass and goggle-eye exist in this stretch of river as well. They can be caught using the same baits and lures used for trout. Small buzzbaits and crankbaits, such as Rebel's baby craw, are good producers as well.


I floated with friend Greg Richardson on my last Current River float and fish trip. The wager was that whoever caught the most fish would be served a shore lunch by the loser. I should have asked more details about the wager. I didn't realize Richardson would include the dinky goggle-eye which he caught by the score on Marabou jigs. I fished for big trout, but big didn't count. However, he did agree that I cook one mean shore lunch.


Float trip arrangements may be made through Akers Ferry Canoe Rental.