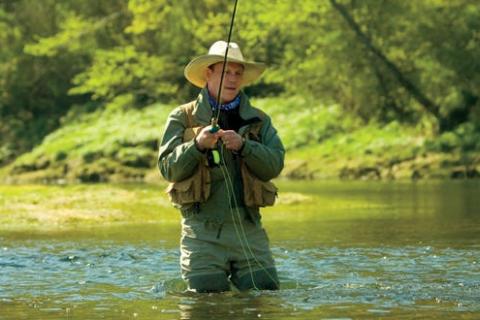 Interest in fly fishing has grown by leaps and bounds in the last decade and rightfully so. It is a fun filled, enjoyable and relatively easy sport to learn, which an individual can enjoy for most of their life.


According to Walt Fulps, a long time Missouri fly fishing guide, new fly fishers need to be concerned about three major equipment components when setting up their first fly fishing outfit.


Fly Rods


There are so many fly rod choices these days. "The basic concerns center around rod weight, action and length," said Fulps.


Most fly rods are made of graphite. It is a strong, durable material, which makes casting much easier than the rods of the old days. "Lighter weight rods, sizes 2, 3, and 4, are smaller rods made for fishing small streams and ponds and catching trout and panfish, " Fulps instructed. "Slightly heavier rods, 5 and 6 weights, are utilized for slightly larger waters and bigger fish. The heaviest rods, sizes 7 thru 12 are used for larger rivers, lakes and oceans. You will need those for salmon, tarpon and sharks."


"As a beginner fly fisher , a slower action rod like the White River Fly Shop Dogwood Canyon fly rod makes it easier to learn to cast," Fulps stated. '"Action,'" "refers to how stiff the rod is. "Fast action is stiffer and slow action is flimsy. The casting stroke is much slower for a slow action rod, thus easier for a beginner to use."


Fly rods come in lengths of 6 to 12 feet. Most applications require an 8 or 9 foot rod. An 8-1/2 foot long 5-weight rod is a good choice for beginners.


Fly Reels


Fly reels may be the most important part of the setup, according to Fulps. "As beginners' luck has it, so many newcomers manage to hook a really nice fish and they can't control it with a cheap reel," Fulps said. "Beginners should avoid the $35 reels, if possible. Purchase a reel with an arbor a size larger than you think you need like the White River Fly Shop Classic Large Arbor Fly Reel or one with the benefits of a large arbor, but at a more manageable size like the Orvis Access Mid Arbor Fly Reel. The arbor is where the fly line is stored on the reel. This gives you more room for fly line backing (i.e. more line), so you will have a better chance at landing that monster fish. Spend a few extra bucks on a reel with a closed drag system.


Fly Fishing Line


Fly lines can be confusing. There are so many specialty types available. "Look for a good quality, floating, weight forward fly line for your first setup." Fulps advised. "The tip of the line will be bigger and heavier than the rest of the line, making it easier to cast."


Fulps offered one last tip for the beginning fly fisherman looking to purchase their first flyfishing outfit. "Buy your first outfit on site. Challenge the sales person to put you in the right gear within your budget. And give the outfit a few false casts to see how it feels in hand."


Get more how to tips for fly fishing beginners, read these fly fishing articles:
Essentials Fly Materials to Get Started Fy Tying

Get Started Fly Tying with This Equipment

5 Best Fly Fishing Organization Tools & Accessories

12 Best Trout Fishing Flies that Go-Anywhere


5 Strange Fly Tying Materials that Really Work