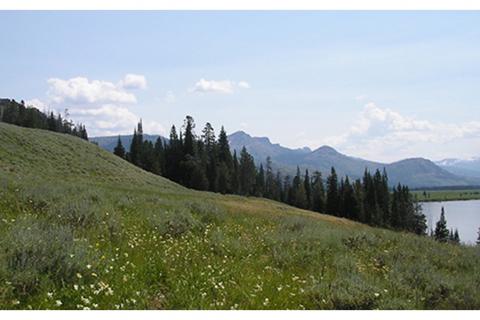 Yellowstone National Park receives more than 3 million annual visitors, but with more than 2.2 million acres you still can avoid the crowds, if you're willing to leave the car behind.
Backcountry camping in Yellowstone is a great way to connect with our nation's first national park.
Before You Go
Backcountry camping requires a permit in Yellowstone. Full information about planning your trip can be found online.
Many camping sites are available to reserve ahead of time. Applications are accepted up until April 1, when they are all processed in random order. (It is highly recommended you apply in advance as the most popular locations fill up instantly. Applications received after April 1 are processed as they arrive.) There is a $25 application fee.
Some backcountry campsites are set aside and cannot be reserved in advance. Campers with a bit of flexibility can check in with the backcountry rangers' office to sign up for these. They are available only up to 48 hours in advance. These sites do allow folks to access the backcountry on short notice, but remember the availability is limited.
All backcountry campers are required to check in at a backcountry ranger station before hitting the trails. Rangers will go over final itineraries with you. Use this meeting to get up to date reports on trail conditions, weather and wildlife. There is also a mandatory bear-safety video.
Rangers will remind you about food storage. Many campsites have hanging poles, although packing a couple of bear kegs isn't a bad idea. Others will not. Don't forget to pack plenty of rope for using the food-storage poles.
Pepper spray is also recommended for hiking and backpacking in Yellowstone.
On The Trail
Always check with rangers for the most up-to-date trail conditions. There are some general things to keep in mind though.
Yellowstone is a high-elevation national park with most trails more than 7,000 feet in elevation. If you live at a lower elevation, it is best not to overdo it. It's better to focus on shorter days and maximizing the enjoyment of your camping group.
In addition to numerous rest breaks, you'll also want to budget plenty of time for taking photos along the way. With every bend in the trail, you'll be tempted to capture the new vantage point.
Despite it's relatively pristine nature, all water sources should be treated before drinking in Yellowstone National Park. Wise campers carry multiple ways to purify water.
More on water, numerous trails will require water crossings. Most are minor inconveniences, although a few are intense, especially during spring runoff, which lasts well into June. Some people prefer packing a pair of strap-on sandals or an extra pair of shoes for water crossings. Plenty of dry socks are also recommended. Even a small blister from hiking in wet shoes can ruin a backpacking trip.
Campfire restrictions change regularly based on current conditions. When allowed, campfires are legal only in established fire pits.
Hidden Classics
No trip to Yellowstone would be complete without taking in the classics like Old Faithful, Fishing Bridge, Hayden and Lamar valleys. A backcountry camping trip will reveal hidden classics you can enjoy all on your own, though.
A mountain meadow filling with elk as the sun sets. A wolf unexpectedly crossing the trail 150 yards in front of you. A cascade of rushing water revealing the striped face of a harlequin duck.
Hiking in Yellowstone is a far different experience than driving in Yellowstone.
Lace up your boots, buckle up your backpack, and hit the trails. Whether you are doing a short overnight trip, or hiking the Thorofare (the most remote spot in the lower 48 states), a Yellowstone camping trip is certain to make memories.