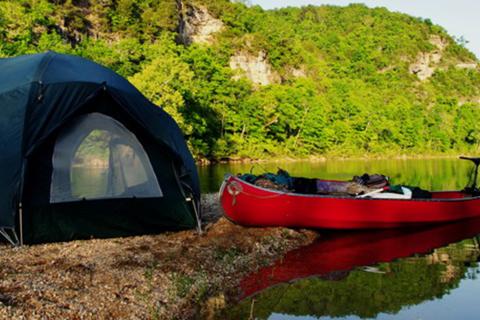 Emerging from your tent mere feet from rippling water as an early morning mist rises all around you makes for a magical camping experience.
Few places offer as fine of an opportunity to experience such a soul-cleansing escape as a gravel bar in the wilderness of the Ozark National Scenic Riverways (ONSR) in southern Missouri.
The Ozark Mountains offer an unbelievable amount of outdoor recreation. There's fishing, hunting, hiking, horseback riding, wildlife watching and more. The pinnacle of all Ozark outdoor experiences, though, is gravel-bar camping.
When it comes to gravel-bar camping few rivers match the allure of Missouri's Current and Jacks Fork rivers.
These two magnificent rivers make up the ONSR, which has been a national park since 1964. The park encompasses 80,000 acres of public land that stretch 134 miles along the two rivers.
This land is yours on which to hunt, hike and camp for free. That's right, it's a national park and everything is free. There is no entrance fee and no camping fee.
So load up your canoe, or rent one from a local livery and hit the river for a multiday wilderness camping experience by water.
Paddle all day then pick out a spot that looks alluring to you and set up your tent. It's that simple. Freedom at its finest.
You must pack accordingly for gravel-bar camping, which means packing light. The last thing you want to do is overload your canoe.
Downsizing your gear is paramount. You don't need cots. Pack sleeping pads instead. Leave the family-sized tent at home and squeeze into a smaller one. You don't need a lot of changes of clothes. Bring a single burner stove, burn paper plates after using them, and don't overdo it on perishable foods.
The point is pack small and you'll have a more enjoyable experience while paddling. And if you flip your canoe, you'll have an easier time gathering your belongings.
But whatever you do, don't forget to pack your fishing equipment.
Fishing for smallmouth bass and goggle-eye (rock bass) is truly world class on the Current and Jacks Fork rivers.
Yet, ongoing Missouri Department of Conservation studies are proving smallmouth bass and goggle-eye have a fairly tough go of it in Ozarks rivers. Fisheries biologists are actually concluding anglers need to harvest a few fish to ensure there is room for others to grow.
So on your gravel-bar camping trip, don't feel guilty about keeping a couple of fish for the frying pan.
Hunters also should consider making the most of the ONSR. The turkeys found along the Current and Jacks Fork rivers are the descendants of the first birds used to start repopulation efforts in neighboring states.
Floating the ONSR in the spring, waiting to hear a gobble from the comfort of a canoe, then beaching your craft and taking off in pursuit is a special way to hunt turkeys.
Elk restoration recently has begun in Missouri.
The state now has an estimated 150 animals, all of which live close to the Current River. On any given summer day, you might encounter a herd crossing the river. And come fall, you'll surely hear the majestic bugle of a bull as you paddle past the Current River Conservation Area.
The ONSR is not only a crown jewel of Missouri, it's a national treasure comparable to Yellowstone and the Great Smoky Mountains. The people of the area are friendly and inviting, the scenery is unrivaled in the Midwest and there's no end to outdoor opportunities.