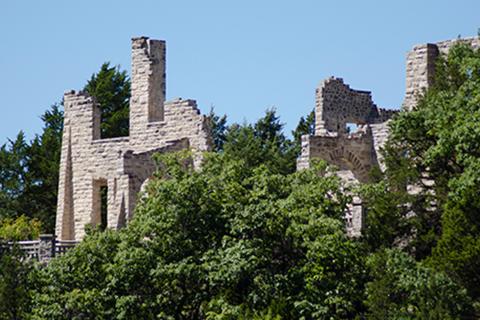 Campers, hikers, anglers and other outdoor enthusiasts love these parks in the Show Me State
Bennett Spring was the first Missouri State Park I ever visited. As I rolled down the long and winding hill leading into the lush valley below, highlighted by a mesmerizing spring creek, I began looking for a place to pay my entrance fee. After driving in circles for more than 10 minutes, I finally gave up and went inside the park store to ask for help.
You do not have to pay to enter Missouri State Parks, a sweet, gray-haired old lady explained to me.
Confused by this statement, I told her I did not have an annual pass or anything.
She explained further that Missouri State Parks are open for everyone to enjoy. Visitors have to pay to camp and fish, but other than that, there is no fee to enter.
I was stunned. Having just moved to Missouri from from Indiana, a state with beautiful state parks of its own, I was used to paying an entrance fee or purchasing an annual pass. The concept of free state parks was something I had never considered.
Not having to pay to enter state parks is another in a long, long list of reasons why Missouri is one of the absolute best states for camping and general outdoor enthusiasts to call home or visit.

State Park Statistics
The Missouri state park system consists of 87 state parks and historic sites plus the Roger Pryor Pioneer Backcountry. With more than 200,000 acres, 2,000 structures, 3,500 campsites, 194 cabins, 2,000 picnic sites and 1,000 miles of trail, Missouri State Parks offer campers and outdoor enthusiasts of all skill levels opportunities to be outside enjoying nature.
Camping is the highlight of most of these properties.
While each state park has its own special attributes and attractions, visitors can expect all parks to be held to the highest standards of cleanliness, accessibility and amenities. Tent campers and RV enthusiasts alike, will find Missouri State Parks welcoming and enjoyable.
With incredible state parks spread all across the state, it can be difficult to distinguish a few as superior to the rest, but there are some very unique state parks in Missouri.

Ha Ha Tonka
One of the premier state parks is Ha Ha Tonka. It is located on Lake of the Ozarks and features a 20th-century castle built high on a bluff overlooking the lake. The park offers more than 15 miles of trails that lead to sink holes, caves, natural bridges and the water. Ha Ha Tonka is truly a unique destination that draws people from all over Missouri and beyond.

Katy Trail State Park
The Katy Trail State Park, which at 240-miles is the longest developed rails-to-trails project in the nation, is a nationally recognized destination. Bennett Spring, Roaring River and Montauk state parks are all considered trout parks. Each of the properties features a spring creek that is stocked daily during trout-fishing season.
Missouri is often called a fly-over state, leaving folks from the coasts to wonder why they would want to visit. One trip to any of our scenic and accommodating state parks will answer that question, and will surely leave camping enthusiasts eager to explore more of the amazing Missouri State Parks.