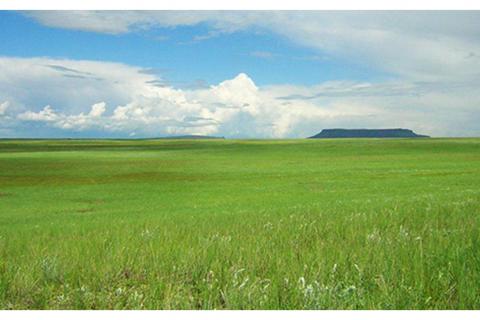 When many people plan on going camping, they automatically think of the mountains. But the open, and often uncrowded, prairie lands are an equally captivating and peaceful setting for a relaxing time away.
The prairie landscape has its own unique beauty. Although there are regions where the land appears to continue in a straight line all the way to the horizon, more often than not, hills and coulees give texture to terrain. These are the places that abound with wildlife, making them a great place to hone your animal-spotting abilities.
The prairie is an equal delight to botanically minded visitors. In the spring, the vast expanse of grass makes the vibrant colors of the wildflowers pop against the green backdrop. And as the summer heats up and the foliage matures, the grasslands change into a golden sea. By fall the colors mellow into shades of brown, often adorned with yellows, reds and other warm tones before the monotone palette of winter settles upon it all.
Undoubtedly, camping in such an area is special, and finding a place to stay is surprisingly easy much of the time. Between state parks and federal lands there are practically limitless options to find that perfect spot for a weekend, or longer, excursion. There are developed campgrounds run by state agencies, along with federal lands managed by the Bureau of Land Management, U.S. Forest Service and U.S. Army Corps of Engineers.
On the federal level, developed camping areas can be found at www.recreation.gov. To locate a campground at a state park, contact the individual state's parks department. Many have a certain number of campsites that can be reserved so you're guaranteed a place to stay, although some set aside a percentage for walk-in campers, for those who wish to remain flexible.
In some states there are also camping opportunities available at state fishing access sites. Contact the state fish and wildlife agencies for specific information, including fees (often there are none) and regulations. These are usually primitive campsites with pit toilets and no potable water, but there are far fewer people. The other positive aspect of these areas is their proximity to recreational activities on the water. Fishing from your campsite is a bonus. Or take along a kayak or canoe to paddle the lake or river.
Many of the federal lands allow dispersed camping, where you can camp pretty much anywhere you'd like, as long as you follow their specific rules, including leaving a clean camp on your departure. Each area has its own regulations, so check ahead of time before you head out to find a campsite.
One of the biggest differences between camping in the mountains and on the prairie is the wind. While it's typically the calmest in the summer, when you sometimes want a breeze the most, the wind can be downright brutal at other times of the year. Keep this in mind before you pitch your tent, and focus on using natural features (or your vehicle) to mitigate the gusts.
The trade-off for the beautiful big sky is intense sunshine for many prairie campsites. If it's an option, pitch your tent where there are trees available, such as cottonwood groves near water sources, to get a break from the heat.
Camping in a prairie setting is a unique experience. Teeming with wildlife in many locations, and offering features such as prairie ponds and rivers, the wide open spaces offer their own beauty and memorable camping opportunities.