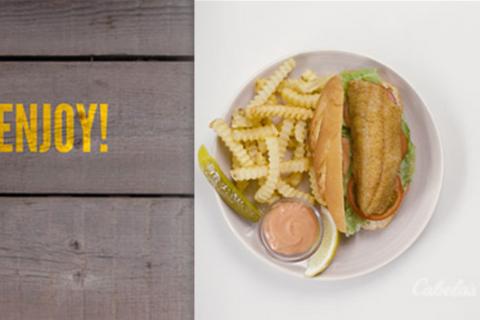 This classic Louisiana sandwich gets a Northwoods treatment by substituting fresh fried walleye fillets.
Prep Time: 15 minutes,   Cook Time: 5 minutes,   Servings: 4
Ingredients
4-6 walleye fillets, or other fresh white-fleshed fish
22oz jar of Cabela's Spicy Coating Mix
Peanut or vegetable oil
Hoagie Rolls
Lettuce
Tomato
Onion
Lemon slices
Remoulade Mixture: 1 part Miracle Whip, 1 part ketchup, Louisiana Hot Sauce
Directions for Preparing Walleye Po' Boy Sandwiches
1. Pour peanut or other high-temperature oil into a fryer at a depth of several inches, enough for the fillets to float as they fry. Heat the oil to 350°.
2. Add the Cabela's Coating Mix into a large bowl or breading container. Lay the walleye fillets into the coating mix and shake until they are well coated.
3. Check the temperature of the oil by adding a pinch of flour to it. If it sizzles when it hits the pan, the oil is ready. Fry the walleye fillets in batches. Depending on how thick the fillets are, this might only take 2 to 4 minutes. When the fillets are browned, remove and place them on a paper towel lined plate to drain excess oil.
4. As the fillets are frying, make the remoulade by whisking together ½ cup each of Miracle Whip and Ketchup. Add the Louisiana Hot Sauce to taste and stir well. (The remoulade can be made up a day in advance and stored in the refrigerator if desired.)
5. When the walleye fillets are cool enough to handle, assemble your sandwiches. Start with a thick layer of remoulade, topped with lettuce, tomato slices and the walleye fillets. Squeeze fresh lemon slices over the top and enjoy.