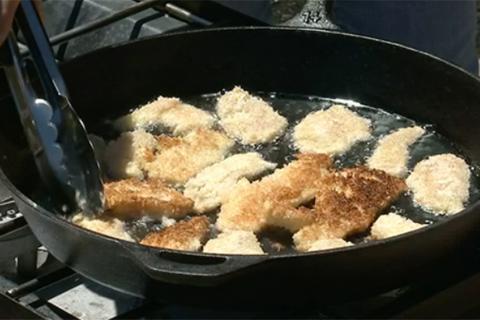 Make great use of bluegill or other panfish fillets with this restaurant-style coconut-fried technique. Kids love it, but don't be surprised if the adults at your picnic keep coming back for more as well.
Prep Time: 15 minutes,   Cook Time: 5-10 minutes,   Servings: 6
Coconut Fried Bluegill Recipe Ingredients
1 lb bluegill or other panfish fillets
Seasoned Flour:
1 cup Flour
2 tsp sugar
1 tsp salt
1 tsp dry mustard
1 tsp white pepper
1 tsp granulated onion
1 tsp garlic
1 tsp cayenne
Egg Wash:
2 eggs
2 tbs water or milk
Breading:
3/4 cup panko or breadcrumbs
1/2 cup unsweetened coconut
1/4-1/2 cup coconut oil
Coconut Fried Bluegill Preparation Directions:
1. Set up an flour-egg-breading station, by placing three shallow bowls in a row. In the first, whisk together the flour and seasonings until well blended. In a second bowl, beat two eggs and stir in a tablespoon or two of water until just foamy. Make the breading in a third bowl by stirring together the panko or finely crushed breadcrumbs and unsweetened coconut.
2. Set a large cast-iron pan over medium-high flame and pour in the coconut oil.
3. As the oil heats, bread the bluegill fillets by first dredging in flour, followed by the egg wash and finally a good coating of the panko/coconut breading. Set the breaded fillets on a wire rack or plate and continue with the rest of the fillets.
4. Check the temperature of the oil by adding a pinch of flour to it. If it sizzles when it hits the pan, the oil is ready.
5. Fry the bluegill in batches, flipping the fillets once to brown each side. Depending on how thick the fillets are, this might only take a minute or two, so monitor the frying process closely. When the fillets are browned, remove them to a paper towel lined plate to drain excess oil.
Click to print or download the Coconut Fried Bluegill Recipe