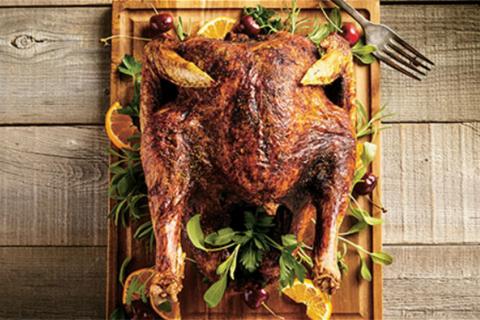 Deep frying a whole wild turkey is a fantastic way to cook the entire bird without drying out the meat. Not only is this one of the quickest ways to cook a whole bird, the novel presentation makes it worthy of holiday celebrations.
Prep Time: 5 minutes,   Cook Time: 30-45 minutes,   Servings: 10-12
Deep Fried Wild Turkey Ingredients:
1 - 10-12 pound Wild Turkey, cleaned and dressed with skin on
4 tbsp Cabela's Open Season Mountain Man Bourbon Rub, divided
4 gallons rice bran oil
Recipe by: Tiffany Haugen
Directions for Preparing Deep Fried Wild Turkey:
1. Weigh turkey to determine deep-frying time.
2. Dry turkey thoroughly with a clean dish towel and coat with 2 tablespoons Cabela's Open Season Mountain Man Bourbon Rub.
3. Pour rice bran oil into the pot.
4. Heat oil to 400º.
5. Place turkey, legs up, on to fryer rack and lower into fry basket.
6. With a gloved hand, carefully submerge turkey in the hot oil.
7. Fry for 3 1/2 minutes per pound or until internal thermometer reads 155º.
8. Regulate heat to keep oil at 350º during the cooking process.
9. To check the internal temperature of the turkey, use a gloved hand to partially lift the fry basket out of the oil.
10. Place probe into the thickest part of the breast meat.
11. When done, remove turkey from hot oil and place on a carving surface.
12. Sprinkle with remaining Cabela's Open Season Mountain Man Bourbon Rub, cover with foil, and let sit 15 minutes before carving.
Click to print or download Deep Fried Wild Turkey recipe