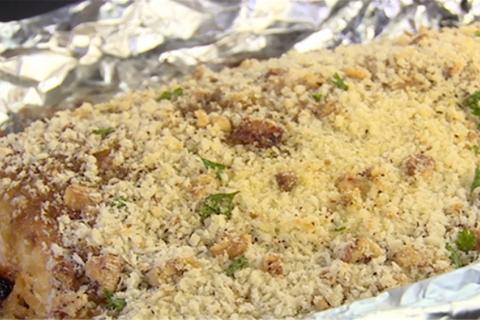 This salmon fillet recipe has converted "non-salmon eaters" into salmon lovers. The crunchy and flavorful topping makes it the best and not fishy at all!
Prep Time: 20-30 minutes,   Cook Time: 20 minutes,   Servings: 6
Crispy Dijon Grilled Salmon Ingredients:
2 lb. fillet of salmon, skinless and picked of pin bones
Juice of ½ a lemon (about 1 tbs.)
1 tsp. salt
1 tsp. coarse ground black pepper
4 tbs. Dijon mustard
¾ cup packed dark brown sugar
Bread Crumb Topping Ingredients:
1 cup panko bread crumbs
½ cup crushed walnuts (or your favorite type of nut)
4 tsp. chopped fresh parsley
 ½ tsp. salt
½ tsp. coarse ground black pepper
Olive oil for drizzling
1 lemon for garnish
Preparation Directions:
1. Preheat oven or grill to 400 degrees.
2. Lay the fillet of salmon out onto a greased baking sheet and drizzle with lemon juice.
3. Season with 1 tsp. each of sea salt and pepper.
4. Coat the salmon with Dijon mustard, making sure the entire fillet is well covered.
5. Top with brown sugar, packing gently over the mustard.
6. Set aside.
7. In another bowl, mix together the topping ingredients.
8. Sprinkle this mixture over the fillet.
9. Drizzle with olive oil.
10. Bake salmon for 20 minutes in the preheated oven or grill, or until it flakes easily with a fork.
11. Garnish with a wedge of lemon for a beautiful presentation.
Click to print or download the Crispy Dijon Grilled Salmon recipe