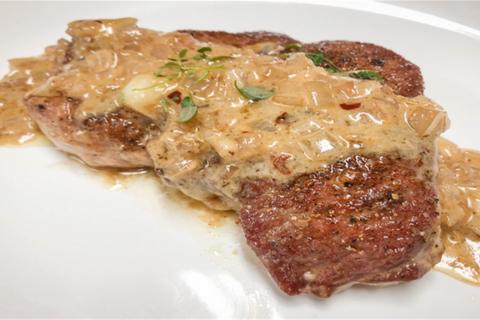 You'll love serving family and friends this cast-iron pan-seared pork steak with creamy, garlicky herb sauce for dinner anytime. Try this quick and easy pork steak recipe using your favorite cast iron skillet. 
Cast Iron Pork Steak Recipe Ingredients:
2 Tbsp Olive Oil
1-2 8oz Pork/Beef Steak
½ tsp Salt
½ tsp Pepper
1 tsp Whiskey Steak Seasoning  
3 Tbsp Butter
2 Garlic Cloves  
1 Thyme or Rosemary Sprig  
½ Onion - Diced Finely  
Recipe by: POWDERHOOK
Directions for Preparing the Port Steak Recipe:
1. Add 2 Tbsp of olive oil to a cast iron pan (link) over medium-high heat.
2. Season both sides of the steak with salt, pepper & whiskey steak seasoning.
TIP: Press the seasoning into the meat so it sticks better throughout cooking.
3. Once the oil begins to shimmer, add the steak and cook for 5 minutes.
TIP: Try not to move or touch the steak while it cooks. It's building up a nice crust by remaining in one spot.
4. Flip the steak, cover with a lid and reduce to medium heat. Cook for 5 more minutes.
TIP: The thicker the steak the longer you cook and lower you want the burner. Thin steaks will get the opposite, high temp & short cook time. The steak in this recipe was about 1" thick.
5. Remove the lid and add the butter and garlic.
6. As the butter melts "baste" the steak by spooning the butter over the steak. This will help cook the top of the steak and keep it juicy. 1 minute.
7. Add the sprig of thyme or rosemary to the top of the steak and spoon the butter over the herbs to bring the flavors out. 1 minute.
8. Remove the steak and add the diced onions. Saute for about 3 minutes until they are soft.
9. Break up the garlic chunks to the same size as the onion pieces.
10. Add the cream and bring it to a simmer.
11. Add the steak back in and cook until the cream is reduced by half. About 3 minutes.
12. Remove and plate the steak.
13. Spoon the finished sauce over the top of the steak and enjoy!
Tip: Watch this video as our team cooks up this mouthwatering pork steak recipe