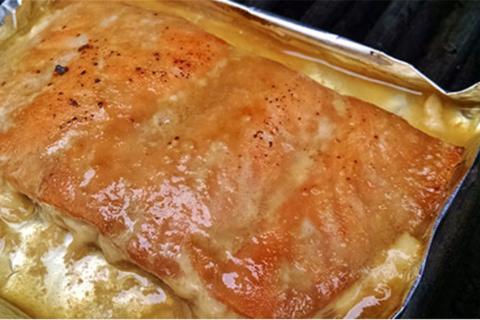 Sweet with a bourbon kick, this simple, four-ingredient glaze is perfect for our grilled salmon.
Prep Time: 15 minutes + 1 hour,  Cook Time: 15 minutes,  Servings: 4
Bourbon Glazed Salmon Recipe Ingredients
1 salmon fillet, cut into four pieces
3 tbs. bourbon
3 tbs. brown sugar
1 tsp. ground ginger
Juice of ½ lime
Directions:
1. Whisk bourbon, sugar, ginger and lime juice together in a small bowl. Place salmon in plastic, zip-top bag and pour glaze over the top. Seal bag and refrigerate for a minimum of 1 hour.
2. Fold four squares of aluminum foil into four small trays. Give each a light coat of non-stick cooking spray. Remove salmon from glaze and place one piece in each tray.
3. Heat a grill to medium-high heat and place trays directly over hot part of the grill. Cover and cook 10 minutes, or until the salmon flakes easily with a fork.