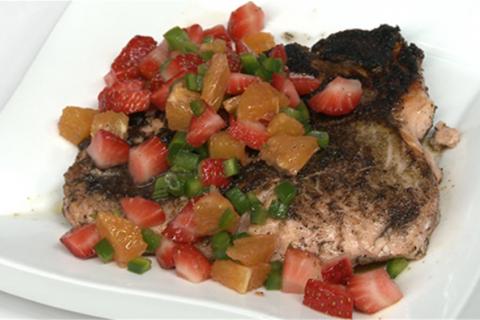 This salmon and salsa recipe can be as spicy or mild as you'd like. The citrus salsa gives a refreshing flavor to whatever blackening seasoning you choose to put on the salmon.
Blackened Salmon Ingredients:
4 - 8/ounce fillets of skinned, salmon or steelhead
2 teaspoons unsweetened cocoa powder
1 teaspoon cinnamon
2 teaspoons granulated onion or onion powder
2 teaspoons salt
1 teaspoon black pepper
4 teaspoons white sugar
1-2 crushed juniper berries (optional)
Strawberry Citrus Salsa Ingredients:
1 pint strawberries, sliced
1 orange, peeled and chopped
1 tablespoon diced jalapeno pepper
1 tablespoon thinly sliced green onion
1 tablespoon fresh lemon or lime juice
1 tablespoon honey
1/2 teaspoon lemon or lime zest
Salt and black pepper to taste
How to Prepare the Blackened Salmon
Mix all dry ingredients in a small bowl. In a pie pan or shallow dish sprinkle dry mixture over the bottom. Heat a cast iron skillet or regular frying pan on medium-high heat. Make sure the pan is completely dry. When the pan is hot, dip fish fillets into mixture covering both sides. Cook approximately 5 minutes per side and serve.
How to Prepare the Strawberry Citrus Salsa
In a medium bowl mix lemon or lime juice with honey. Add all other ingredients, gently toss until combined. Refrigerate until ready to serve.
Click here to print or download the Blackened Salmon & Citrus Salsa recipe
Watch video how to make Blackened Salmon With Citrus Salsa