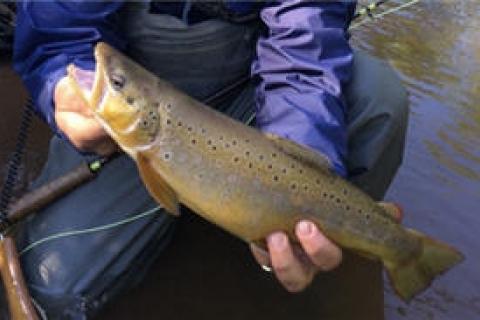 With fall underway, the cold weather and high water means brown trout are in full swing with their migration back into the rivers. If you love fly fishing for big browns then fall is the time to do it, and there is no better way to entice a big brown to bite than with large fly streamers. Don't get me wrong, streamers can be productive year round. But with the large lake run fish entering the river, streamers become a potent tool in catching these aggressive fish.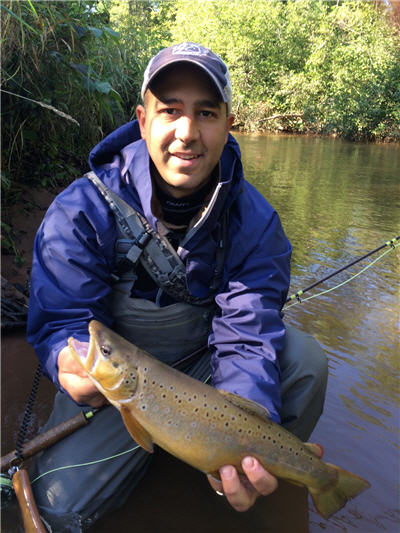 Now is the time for fall streamer fishing with the big browns migrating into the rivers. Don't miss out on the chance to stretch a few lines with these aggressive, beautiful fish.
In the northern Wisconsin streams that I fish regularly, there are two streamer types that I will not leave home without: the black rabbit strip leech and mylar bodied minnow patterns. These two styles of flies seem to have an affinity for catching browns and big ones at that.
 
As I tie these patterns for fall, I use a few different principles compared to the summer or spring patterns. First and foremost is size. With fall streamers, I tie them big — 5- to 7-inch flies are not uncommon, and the bushier I can make them the better. When it comes to fly tying supplies, I select the best cross cut rabbit strips that I can find for the tails on these patterns and will use dubbing loops to spin the rabbit fur and make a dense collar for the fly. In addition to length, I like to have a few hot colors on my fall patterns. I like to use bight red, orange or green beads for these flies, and I will hot spot certain areas with bright red thread (butt wraps) for a bit more attraction.


With the mylar bodied patterns I do not use the traditional pearl color but rather use a translucent shiny green. I feel these little bits of color and shine help to draw attention to the fly when it is in the water. Lastly is that with all the fall streamer patterns that I tie, I like to include rubber legs. White or barred round rubber is tied to the sides of all patterns and adds amazing movement to your fly as you strip it against the current. Flies with lots of motion this time of year really seem to get fish to chase and bite down hard.


The fly fishing gear required to fish streamers in the fall is heavier than what we use the rest of the year because of the size of fish we are targeting. A good starting choice is 6-8 weight rods/reels coupled to floating lines. I like 9-foot, 10-pound test abrasion resistant leaders to help direct these fish out of heavy cover.


Stock up on fly tying supplies by visiting Bass Pro Shops fly fishing gear.