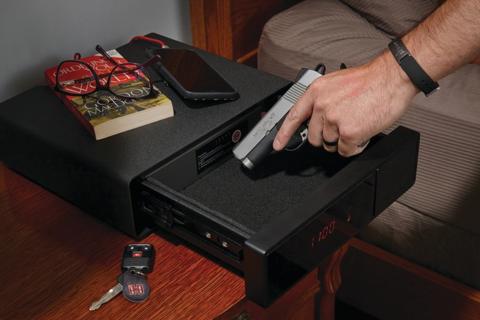 Gun security at home and on the go is a matter of choosing the right gear and knowing how to use it.
Securing your guns – at home and when you're traveling – isn't a luxury. It's a necessity. There is a great deal of effective gear to help you do it, and it doesn't have to cost a lot of money.
The place to begin your self-education and to get the most basic security gear is the National Shooting Sports Foundation's (NSSF) Project ChildSafe. They provide partners in each state with basic safety kits that include a cable-style gunlock and safety instructions. These basic kits are available to the public for free from law enforcement agencies and other partners. To date, Project ChildSafe has distributed more than 38 million of these kits for free!
Any time you bring a firearm into your home – whether it's your first
or one hundred and first – it's your responsibility to reliably secure that firearm from all unauthorized access. That might mean children, it might mean "bad guys", it might mean individuals who are suicidal or mentally impaired, or it might simply mean those who have not had adequate training.
When acquiring a firearm, the gear you need to properly secure it should be purchased at the same time as the firearm, if not before it. Just as you must never rely on a mechanical safety for the safe handling of a firearm, you should never just "store it on a high shelf" even for a few days.
Here are some excellent options for storing guns safely and responsibly.
Standing Gun Safe Can Work for Long Guns & Pistols
The most basic and reliable form of in-home security for your firearms is a standing gun safe. They are available in a wide range of sizes and price points. In sophistication, they range from steel boxes with a hasp and lock through heavy, fireproof models to actual built-ins behind steel and concrete walls.
Most firearms owners with at least several guns will consider a safe with either manual or electronic combination lock. With a little bit of research, these safes can easily be purchased and delivered to your home. In all cases, they should be anchored to the floor and/or wall to prevent them from being removed by resourceful bad guys or tipping over and crushing children or others.
When it comes to selecting the size of the gun safe, it's always best to go with the maximum capacity that will fit in the area you have available for it and that you can afford. No one has ever complained about having "too much space" in a safe – especially if you'll be storing other gear and non-firearm valuables in it, as well.
Cabela's Outfitter Mechanical Lock 30-Gun Safe by Liberty
A 30-gun safe is a smaller capacity of mid-size safes, but it's a practical and affordable size for many firearms owners. The Cabela's Outfitter 30-Gun safe offers some fire protection as it's rated for a 68k BTU fire of 1200° F for 40 minutes. The 4-inch wide military-style locking bars create a strong defense against prying and are actuated by a dial mechanical combination lock. Before making your safe purchase, you should weigh the advantages and disadvantages of mechanical versus electronic locks and select whichever is most appealing to you. Either is a great choice.
Cabela's Mechanical Lock 10-Gun Safe
If you plan on only having a few guns in your home and you don't need additional space to secure other valuables, a small, mechanical lock safe or steel gun cabinet is an excellent and economical choice. This Cabela's 10-Gun gun safe model actually costs less than one mid-priced firearm itself. Fire protection in this safe is 30 minutes at 1200° F. Secure storage like this makes an excellent choice if you have just one shooter or hunter in your home who owns just a few guns with which they pursue their sport.
Browning In-Swinging Vault Door
A vault door like Browning's In-Swinging Vault door takes firearm – and family – security to the next level. If you want to secure your firearms in a "safe room" this is the type door that allows you to do it. Depending on the materials used to build the safe room into which this door is installed, you can optimize fire security as well as weather security, as well. For the safety of anyone entering the safe room, the door can be unlocked from the inside. It secures into walls from 8 – 11.5 inches thick.
Get Fast-Access With Smart Gun Safe or Vault
If your reason for owning a firearm – particularly a handgun – is personal defense in your home, it presents you with a dilemma. How can your firearm remain locked away from those who should not have access, yet be instantly accessible to you should you need it? Floor safes are not generally located in the high-activity areas of the home, nor are they usually designed for opening quickly when you're under duress.
The answer is a small smart safe, sized for one or two handguns, that can be kept on a nightstand or under the bed. Opening mechanisms include programmable key codes you press like digits on your cell phone or fingerprint reading biometric mechanisms that open at the touch of an authorized finger. Testing has shown that in the dark, a biometric bedside safe can deliver a defensive handgun into your hand faster than an unlocked nightstand drawer with other items cluttered in it.
These easy access safes are good at keeping unauthorized hands off of a personal defense firearm, but they are small and highly portable. If you're counting on the safe as a mechanism to prevent theft should a burglary occur when you're not present, the safe needs to be bolted or chained to a solid surface to optimize security.
Liberty Safe HDX-250 Smart Vault
Dimensions of the Liberty Safe HDX-250 vault are 7x12x11 inches – perfect to hold one handgun, a flashlight, and a magazine. A biometric finger swipe and auto-open door make it easy to open only for those who have their fingerprint programmed in. It has a 15-fingerprint memory. (Experts recommend that you program in multiple fingerprints from your own hands should an injury, bandage, etc. obscure a print on one or more fingers.) The system operates on a 9-volt battery and/or the included AC power adapter.
Secure Your Firearms With a

Portable Gun Safe
NSSF research shows that the most frequently given reason for acquiring a first firearm today is personal protection. Most often, that means a handgun for concealed or open carry depending on laws within your jurisdiction. That also means for carry within a vehicle.
Some locations to which a carrying gun owner will travel may lawfully prevent you from taking a firearm into the premises. The security of that carried firearm is your responsibility at all times, including if you have to leave it in a vehicle. Leaving it in the vehicle's console or under the seat is not an option. This is where portable safes come into play. The firearm needs to be locked in a safe and secured out of sight of would-be bad guys.
Hornady RAPiD Vehicle Gun Safe
The Hornady RAPiD gun safe is a unique system offering both security for a firearm left in the vehicle and instant access to the authorized user via an RFID device or 4-6 digit security code. There are also barrel keys provided as an alternate method of entry. It's sized to accommodate any 1911-sized firearm or 4-inch barreled revolver. A unique inflatable bladder mounting system conforms securely to the inside of your vehicle without modifications. The safe operates off of the 12-volt vehicle adapter or four AA batteries. It secures to the vehicle's interior with an included security cable.
Pelican V100 Small Handgun Vault
Another option for leaving a handgun in the vehicle is enclosing it in a quality, locked, hardside handgun case like the Pelican V100 Small Handgun Vault (also available in other sizes). Upon leaving the vehicle, you remove the gun from your holster, remove the magazine, unload, and place the gun into the case. You then lock the case and secure it out of sight in the trunk or a locked tool box or other secure location of the vehicle. This is not always a convenient solution, but is the minimum responsible method of securing the firearm if you cannot keep it on your person.
Gun Locks Are an Additional Measure of Security
Two types of locks are most common for securing firearms – cable locks and trigger locks. Used wisely, these locks can provide adequate, temporary security from unauthorized use of a gun, but they do nothing to prevent loss from theft or fire. Trigger locks are primarily an additional measure of security to be used when transporting a cased firearm.
Master Lock 14" Braided Cable Gun Lock
The Master Lock Braided Cable Gun Lock is the type of gunlock all manufacturers of firearms are required to provide with new guns. The cable is threaded through the open action of the firearm and is locked in place. This prevents it from being fired. Quality padded or covered cables prevent most scratching or damage to firearms. However, this type of lock will not adequately secure break-action firearms.
Bulldog Combination Trigger Lock
Trigger locks like this Bulldog Combination Trigger Lock model, enclose the trigger and trigger guard on handguns and rifles, preventing the trigger (and on some models, the safety) from operating. Travel in some areas and by some methods require trigger locks, so it's a good idea to have one or two on hand for assurance. You can put them in place on guns whether it's in a travel case or a safe at home. Be certain that the exact model of gun you're locking will accommodate a trigger lock and that it, indeed, renders the trigger inoperable.
Protect Your Guns from Moisture & Rust
One drawback to a gun safe can be humidity that may build up inside depending on the environment in which it is used. Humidity causes rust and corrosion which are dreaded enemies of firearms. Rust damages metal finishes, hurts resale value, and can even impede functioning. However, a number of products are available to help maintain proper humidity in the safe.
Cabela's Safe Dri Rechargeable Moisture Control
The most economical type of moisture control is a vented canister containing silica gel crystals. The crystals pull rust-causing moisture from the air in the safe and then turn from blue to pink when saturated. The crystals can then be reactivated by placing the unit in the oven per the instructions. One canister of Cabela's Safe Dri Rechargeable Moisture Control will control humidity in a medium-sized safe.
GoldenRod Dehumidifier Rod
For gun safes with built-in electrical outlets, the most convenient solution for climate control is a dehumidifier rod like the GoldenRod Dehumidifier Rod. It circulates dry, warm air through the safe 24 hours a day. The heat is mild so that it doesn't damage wood finishes or cause a fire hazard.
Liberty Safe EVA-Dry Mini-Dehumidifier
The wireless Liberty Safe EVA-Dry Mini-Dehumidifier requires no power to operate. The unit is filled with Water Glass Technology crystals that have a much higher absorption rate than traditional, soluble humidity-absorbing products. It's also 100% renewable, eco-friendly, non-toxic, and child- and pet-safe. Once the dehumidifier is full of collected moisture, the indicator crystals will turn green. Plug the unit into an electrical outlet for 8 to 10 hours, and the silica gel dehumidifier will renew itself and dry out the moisture.
Lockdown Hygrometer
Regardless of which method you use to maintain reduced humidity inside your gun safe, it's important to monitor the level so you'll know when silica gel crystals need reactivation or the dehumidifier is in working order. A simple, easy-to-read hygrometer such as the Lockdown Hygrometer mounted inside the safe or even resting on a shelf provides instant readouts to reassure your guns are safe. The optimal humidity level in a gun safe is about 50% at 70 degrees.
Other Gun Safe Accessories to Think About
The range of accessories to make gun storage more convenient and safer is extensive. Here are a few more you should consider:
Browning Bolt-Down Hardware Kit for Gun Safes
Anchoring a gun safe is important to both prevent it from being removed by bad guys to open elsewhere and restrict accidental tipping from the weight of the door swinging open. The Browning Bolt-Down Hardware kit for gun safes has everything required for anchoring to both wooden and concrete surfaces – including the necessary drill bits.
Cabela's Silicone Treated Gun Sock
Guns should never be stored in travel or waterproof cases inside or outside of a gun safe, but a silicone treated gun sock like Cabela's Silicone Treated gun sock is an outstanding choice for storage and protection. The silicone treated fibers are breathable, but repel moisture. They are made to stretch to fit over almost any firearm. As your gun safe gains more residents, gun socks are extremely important to prevent nicks and dings when you maneuver the firearms in and out of their positions in the safe.
Lockdown Puck Monitoring System
Wireless technology allows you to take firearms security to a new level. The WiFi enabled Lockdown Puck monitoring system is easy to install, and provides push notifications for monitoring alerts to your smartphone. Features include an audible, high-decibel alarm, tamper and vibration (drilling and movement) detection, temperature and humidity monitoring, and easy arming/disarming
by authorized users.
Hoppe's Silicone Gun and Reel Cloth
A great habit to get into is to do a final wipe down of a firearm each time it is placed back into the safe. This removes fingerprints that can contain salts and other corrosion-inducing elements. Having a dedicated silicone impregnated cloth on a shelf in the safe or hanging on the back of the door is a great way to engrain that practice. The Hoppe's Silicone Gun and Reel Cloth is made from flannel material and treated with special silicone lubricants to properly clean and maintain your firearms and fishing reels.