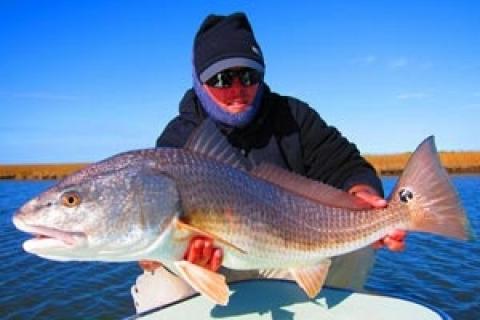 The redfish (or red drum) has a huge range of distribution, spanning Virginia all the way down to the Texas Gulf Coast. This benefits countless shallow water marine anglers in the southeastern coastal United States. The resulting popularity makes the redfish the saltwater counterpart of the largemouth bass. Backing up the redfish's expansive distribution and availability is their readiness to strike an enormous array of natural and artificial baits. This other factor makes them the most sought-after, poled-after and "yakked"-after flats fish nationally.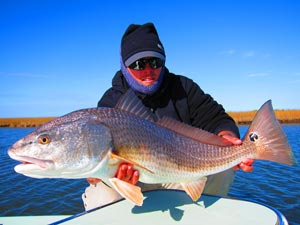 The flats of Louisana Marsh has world-class redfishing. Captain Greg Dini hoists up fine specimen.
The redfish's ability to tolerate a wide range of water temperatures, including the coldest temperatures, makes them one of the most year-round available flats fish in America, the other being seatrout. And if we restrict the category to sight-fished species, they are clearly Numero Uno.
 
And, yes, redfish are great eating, which bonefish and tarpon are not. Snook are in short supply due to 2010 fish kills and should be released. So the brackish water flats generally house two edible predators: seatrout and redfish. My personal choice is to opt for redfish because they can be sighted and cast to, while seatrout are often caught by blind "fan" and focused casting. In addition, trout top out around seven to eight pounds, whereas redfish pushing twenty pounds are often caught in certain habitats -- but more on that later. I crave both species, but I love to have a go at edible-but-big bruisers...wouldn't you, too?  


Yet, there are even more features that put Mr. Spot-tail on top of the shallow water angler's dance card. Redfish have all the feeding behaviors of bonefish -- and more! Unlike the generally bottom grazing bonefish, redfish will feed along the entirety of the water column. In terms of lures, this gives anglers the choice of throwing "topwaters" (topwater hardbaits) in the morning and overcast days and deeper running artificials like the D.O.A. C.A.L. jerkbait or Johnson Silver Minnow Spoon for deeper presentations.  


An ideal all-around outfit for redfish begins with spinning tackle. Use a seven-foot graphite rod with a medium action. Reels of the 4000-size are fine and should be filled with 16-pound braided line and finished with a 20-pound fluorocarbon leader.  A good outdoor retailer: check out the Offshore Angler saltwater fishing gear at Bass Pro Shops.


Louisiana Marsh: Land of the Giant Redfish  
The shallow water epicenter is the vast Louisiana Marsh. There is no other habitat so immense and unpressured. Offering redfish numbers and sizes unmatched anywhere, anglers can go sometimes go days without seeing another flats boat in this pristine paradise.


With New Orleans as the base of operations, anglers are picked up by their guides and generally taken to Hopedale to fish the "East Side" or, periodically, Venice to fish the "West Side." Anglers are typically pleased that this incredible fishery is barely an hour from the famed French Quarter. Of considerable importance is the complete absence of any oil whatsoever in this vast expanse. I have been back to this area since the BP well was "killed" and did not see any oil or sheens in the 60 miles we covered in two days.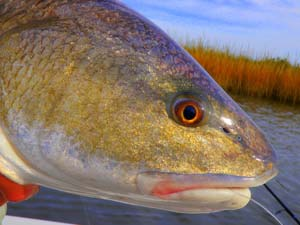 The redfish's nares give it an extremely powerful sense of smell. 
As far as technique, "all things redfish" that work in the marsh work everywhere else in the US where redfish are found. Towards that point, I had returned to fishing that vast wild area with Captain Greg Dini in January, during and just after the passage of a vigorous cold front. In formulating our battle plan, we both acknowledged that the redfish would be handling the cold weather without difficulty. However, we both knew that their strikes would be more subtle and closer to the bottom because the chill would slow their metabolism. The game plan would call for smaller lead-headed plastic jigs that would briskly sink to the bottom for rapid placement in front of the fish. We were also happy that the forecast blue skies and resultant good visibility would help us with the presentation and the timing and style of the lure retrieve, which would differ for each and every sighted fish.
 
The first trip of our two-day charter was turbocharged with winds out of the north still blowing at 18 mph with gusts up to 22 mph. Greg mentioned that this much velocity certainly would create windward and leeward sides of the marsh grass island profiles that we'd be poling along. It would be obvious that the northern grass walls would feature more muddied-up water that would make visibility almost impossible, as well as making poling a ridiculous proposition. Greg was certain our tactics that day would find us on the leeward southern side of all the island and marsh grass masses.  


I knew from experience that in windy cold weather situations in redfish country — particularly in "high water" — that spotting these fish would often involve cruising fish versus tailing fish breaking the surface. The brackish coastal waters in the Marsh, or anywhere else where redfish inhabit, tend to be tannin and tea-colored in general. Moreover, this often occurs over muddy bottom. So newcomers to this specialty need to realize that sighting redfish is a far more nuanced experience in contrast to the popped out shapes of bonefish, permit, and tarpon cruising over light sand bottom in gin-clear water. Even in the clearer waters of wintertime, spotting redfish can be tough. The best way to train your eyes is to look for some orange moving color or perhaps a vague shape in contrast to the bottom.  


Into the Marsh  
I was glad we'd be using Greg's robust East Cape Canoe 19-foot, 2-inch Vantage skiff. It handled extremely well in rough open waters without shaking up or wetting the passengers. Yet once we'd be up on the flats, its 8-inch draft was all we'd need to creep into super-skinny shallows for even smaller "rat reds." As soon as this skiff was launched at the Hopedale ramp, we secured the vessel at the dock and began dressing in layers for a morning featuring 41-degree air temperature. Combine that with a 40 mph running speed and the wind chill would be extreme. I wore a Tee shirt, fishing shirt, sweatshirt, jacket, over-jacket with a hood, a double Buff facemask, a hat, and pull down sock hat, blue jeans and vinyl overpants.


Our actual launching time was timed to have an optimal sun angle computed by the expected length of the run to our first spot. This was clearly not a situation to be out in freezing open waters as the dawn broke over the horizon, leaving us with two or three hours of being able to see nothing.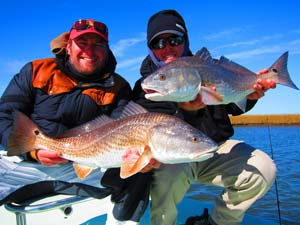 Redfish can have a range of coloration from orange to silvery hues depending upon water brackishness arousal or survival attempts.
Greg fired up his engine and headed down the main channel. Soon he peeled off into a small river that cut through a sea of marsh grass. Soon, another turn, then another, and yet another. This labyrinthine passage reminded me of the Ten Thousand Islands and I appreciated Greg's skills in learning such a complex area.


After another half-hour of running, Greg slowed down the skiff and idled to fifty yards of a leeward shoreline and then cut his engine. As he climbed up on the poling tower, he told me to grab one of the spinners out from the under gunwale storage. It was a nicely-rigged with very thin braid for long casting, a 20-pound fluorocarbon leader, and a dark blue with yellow tail plastic paddle tail jig pegged to an 1/8 ounce jig head.


As soon as Greg had poled within fifty feet of the marshy shoreline, he said, "load of fish at 2 o' clock, thirty feet out." I quickly got my cast out and slowly twitched it in. On the third crank, my rod heeled over with the weight of a nice fish. I struck smartly and line zizzed off the reel and a fat redfish came thrashing to the surface moments later. Soon, I had the fish alongside for photos and release. We estimated it to be ten pounds.  


As the sun got higher, it was easier for me to spot the fish that Greg had been seeing before me from his poling tower. I soon was spotting the redfish myself, sometimes merely ten feet from the bow. Some of these fish were so "happy" that they grabbed the lure literally next to the skiff. Other fish were more wary, which shows that each sighted redfish is an all-new experience. Basically, we were into fish all day. The overall lure presentations were to place the jig close in front of these cold water reds and slowly puff the bottom as they approached.  


Day two was calmer, warmer, and featured diminishing winds out of the northeast. This meant we could fish new shorelines in improving conditions. We expected the redfish to be more aggressive — and they were. We had Captain Doug Henderson with us and all three of us caught redfish all day long using the same strategies as the day before. It's a great day when you lose count of the redfish you caught and released on the flats — but not entirely surprising when you fish with the right people using the right techniques in a well-chosen area like the Louisiana Marsh.