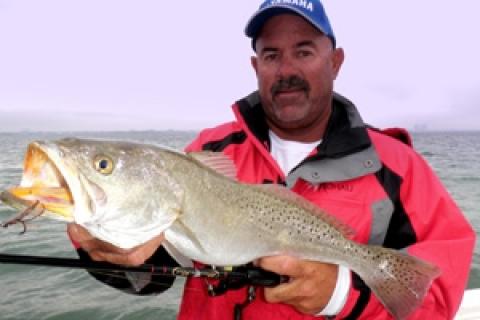 There had been talk of springtime tarpon and trout between cold fronts in Miami's North Biscayne Bay. Indeed, there had been a specific report from Captain Jim Hobales of Caught Lookin' Charters that he had hooked and released three tarpon over 100 pounds only days ago right on the bay side of Miami Beach, east of the Miami mainland. What an irresistible prospect! I called Jim immediately and was delighted to find that he had a opening in two days, which was a close enough time span for the fish to still be there, barring a severe weather change.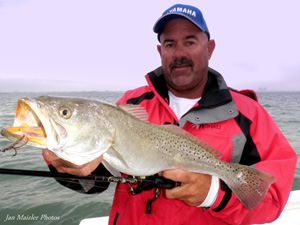 Capt. Jim Hobales with a Biscayne Bay gator trout taken on the Miami tarpon expedition.
The "waiting" days passed quickly, and soon we were on our way across Biscayne Bay in Jim's Pathfinder bay boat. However, in contrast to the still balmy weather he enjoyed on his triple tarpon day, this early morning featured a cool west wind that ruffled the water's surface but left the water temperature intact.
Jim arrived on the scene of the prior action soon enough by line-of-sight and GPS waypoint markings. We slowly approached from the west a hundred yards upwind. In only 4 feet of water, we did not want to spook any 100-pound giants with his engine in such a shallow column of briny liquid.
As we approached the prior days' spot, both of us started to see rolling tarpon. We were immensely relieved to see the Silver Kings cavorting in these cooler conditions. Captain Jim took out two spinners rigged with Rapala SubWalks. Within the next hour of sight casting to specific rolling tarpon, we jumped three fish and brought an 80-pound specimen to the boatside for release. In addition, we had a few more tarpon strikes clearly evident by their massive silver-white belly flash just under the surface.
A nice bonus to the trip was Jim catching and releasing a Biscayne Bay gator trout on the same plug. For a half day trip, it was indeed marvelous — all in a city not enough anglers appreciate as a viable sport fishing destination.