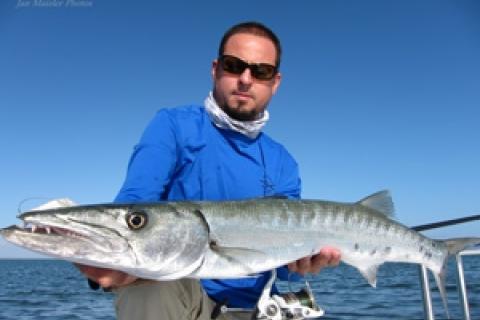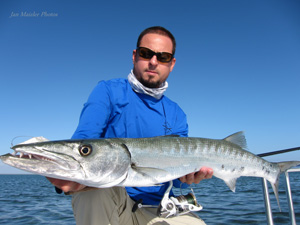 I've always favored a pragmatic approach when it comes to fishing and that comes from the simple fact that I like to bend my rods. Additionally since so many of my outings are pressed-for-time story assignments, I'm acutely aware that readers feel little zest about the fish you didn't catch or the photos you don't have. These dynamics are especially at work in a go-for-the-glory pursuit of a challenging and spooky species like permit on the flats of the Upper Keys. But the possibilities change when both angler and guide are open to what Nature provides, not what they ask of it.
So it came to pass that I met up with Captain Rob Munoz on a Friday late winter morning under the dome of a high pressure cell which graced us with an almost cloudless sky but challenged us with onshore winds of 15-18 mph. As we made our way out of the marina in Rob's 18-foot Hell's Bay Marquesa, it became clear there would be no slick surfaces to reveal black sickle tails to cast at- the wind would see to that. But we would have a favorable rising tide and plenty of sun to look for cruisers under the waves and wavelets of the channel edges and the flats themselves.
The first few hours went without a permit sighting. We went from flat to flat and our vessel handled the seas nicely — certainly better than my "traveler's knees." Rob had come up on a group of flats that usually featured lots of big barracuda and he suggested we rig a second rod for these toothy battlers. I heartily agreed as he attached a light wire leader and hook to a long white soft plastic swimbait and then tied the offering to his braided running line.
Soon, we were in the right poling depth and Rob cut the engine and grabbed the push pole. He encouraged me to cast the lure along the edges as we poled for permit with the first rod at the ready on the deck and the live crab it offered sitting peacefully in a small bucket of salt water.
The strikes came immediately. Big barracudas swirled and struck at the swimbait and some tracked it like cheetahs straight to the skiff. As I kept casting, I secretly longed for a traditional tube lure with two treble hooks in it but my thoughts were stopped by a fierce strike and screaming drag. I struck back just enough for good measure in a battle punctuated by long runs and some missile-like jumps. After 10 minutes of excitement I brought the barracuda alongside the skiff for pictures and release. It was a fine specimen of about 18 pounds.
After we let the battler go, I had a bit more fun with the cudas — rather enjoying their strikes but not wanting another hookup as we headed for the crown of a huge flat and maybe some permit.
Rob spotted a trio of fish coming towards us very quickly — and they were large. My wishful thinking told me they were tarpon and I held on to the rod with the swimbait. As they closed in, my cast was well in front of the lead fish, which turned out to be a huge permit. I worked the bait knowing it would be of little interest as they passed our port side.
I quickly reeled in the lure and picked up the crab rod to prepare a cast as the trio picked up speed quartering our stern. The strong wind behind me helped my Hail Mary cast and the offering sailed right in front of them. I closed the bail and reeled. After some winding I came in with a bare hook. Rob contended one of the permit ate the crab and spit the hook. I'm not sure I agreed since I've had crabs come loose on long end-zone casts. But it was all academic.
Though those would be the only permit we would see in about five hours of Rob poling the flats, I was glad the plentitude of barracuda gave traction to our windy sun-burnished day.