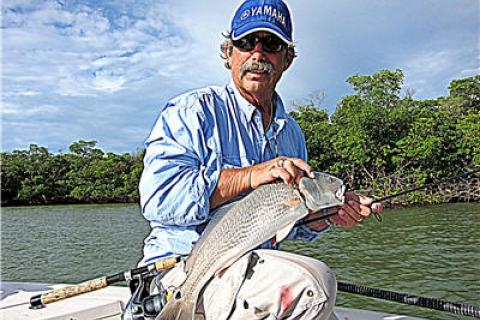 Though there's a stretch of summer swelter between, the seasons will turn and fall will arrive before you know it. It's a magic time along Florida's southwest coast, with all manner of minnows, sardines, and such cascading south along the beaches and mangrove points as the days get shorter. All of the gamesters like inshore seatrout, snook, and redfish as well as nearshore migratory predators like bonito (albies), tarpon, Spanish mackerel, and kingfish gorge on the bait schools.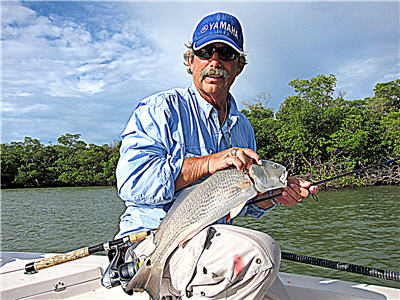 Captain Matt Hoover, Night Flight Fishing Charters. 
This annual event produces the pandemonium that draws anglers from near and far. One of the hotspots to visit is Goodland, Florida. It lies southeast of Marco Island and northwest of the Ten Thousand Islands in a juncture that's loaded with fish. And it's home to Calusa Island Marina where Captain Matt Hoover / Night Flight Fishing Charters (239-732-6550) generally launches from.


I spoke to Matt during this red-hot migratory period and took the first possible weekday he had available, although it is worth noting that the vast area he pursues game fish is large enough to even handle weekend crowds. But it's always wise practice to chose days when other "competing" vessels are more scarce.


The drive from Miami was simple. My wife and I parked and hopped aboard Matt's Pathfinder. Once we were underway, Matt made his first order of business to fill his livewell full of pilchards. He was able to accomplish this in about an hour probing for bait schools along the beaches of Marco Island. Once we had our livewell "blacked out", Matt ran south towards the northern reaches of the Ten Thousand Islands.


Matt made his first stop along an outside point of one of the seemingless indistinguishable keys that dot this maze of a place. As Matt approached the shoreline on his electric trolling motor, we could see minnow schools being savaged by game fish for a fifty-yard stretch. All three of us fished different lures- and all of us had constant action on small snook, ladyfish, jacks, and redfish. After the tide had ebbed for another hour, the action died down.


Matt ran further south for a half hour. This time he deployed live pilchards fished under chubby popping corks. The idea was to "call in" game fish with the pops, and have a live bait offering waiting. In the next three hours, we caught over twenty redfish to nine pounds and lost at least another twenty, including two very large snook. We decided to break with our release-all-fish tradition and keep two slot reds for the skillet back in Miami.