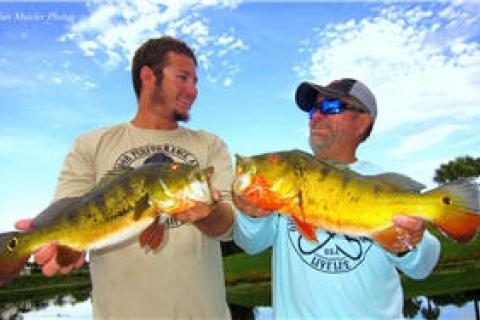 In past times, when the angling travel press wrote about peacock bass, it inevitably involved Brazilian jungles. But the emergence of a fabulous Florida peacock bass fishery from Palm Beach to Homestead on the Sunshine State's Gold Coast has changed that forever. While Florida's peacocks (actually a cichlid, not a bass) are smaller than their Amazonian brethren, some of them are now pushing eight pounds and put up a strong fight.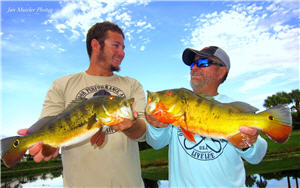 Live bait is the most productive method to fish Florida's peacock bass.

The traditional method of fishing for peacocks in the South American bush, timber, creeks, and rivers is large surface plugs with strong hooks. And it worked quite well on those unpressured jungle fish. However, in Florida live bait is the most productive method. Captain Butch Moser of Delray Beach (561-254-2790)  is one of the pioneers in the live bait method for these colorful gamesters. Butch works a long, hard day in his quest for the perfect live bait for peacocks as well as largemouth bass. Way before the sun comes up; he is throwing his net over schools of threadfin shad that he marks on his recorder. Butch then loads up and "blackens out" his huge livewell. A large portion of his bait is used as live chum thrown into likely spots to fire up gamefish. The balance of the bait is used on light spinning rods.


Butch's tackle is simple. He keeps about six ultralight spinning rods aboard. The lines are generally six-pound monofilament and are tied straight to the hook with no leader at all. The hooks are Aberdeen, approximately size 6, which gives them the long shank needed to protect the light running line from any small teeth. Half of his rods are fished "free," meaning they are tied to the hook without any other terminal tackle. This arrangement allows the shad to swim freely when fished on an open spool. Hook placement is important for determining how the bait swims. Across the nose hooking encourages surface, mid-surface and closed bail retrieve presentations. Hooking the shad in the belly encourages the bait to swim deeper.


The other rods are rigged with a tiny float about two feet above the hook and a spilt shot halfway between. This rig suspends the bait at a purposeful depth in the water column. While the split shot holds the bait straight down under the float, the float itself acts as a strike indicator. Care should be taken not to strike when the float plunges under. Simply reel tight and when you feel the weight of the fish, strike back smartly.


It is no exaggeration that there have been many days when a friend and I ended a morning of fishing with Butch with over a hundred peacock releases.