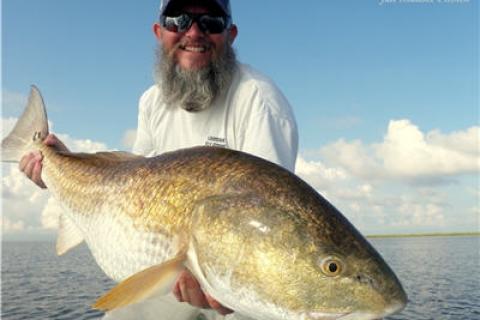 About a year ago, I booked three days of fishing in the Louisiana Marsh with New Orleans' Captain Greg Moon for the fall of 2014. This was a departure from my prior trips and the thinking that the coldest months were the only times the famed monster bull redfish entered The Marsh. My discussion with Greg about the earlier dates was based on the excellent results he had been getting year-round: he simply had to crack the code of where the giant fish were located. And, he did!  Additionally, in the warmth of late summer and early fall, the redfish would be in full color and often bask and feed on top, resulting in great surface strikes. In contrast, during severe cold fronts of traditional fishing dates, the redfish would often hug the bottom, which made spotting difficult and often the strikes were deeper in the water column.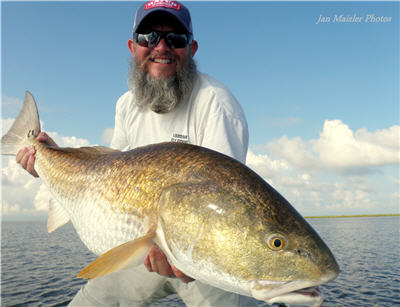 Captain Greg Moon and monster Bull Redfish
The year unfolded and by the arrival of the appointed date, my friend Paul Raffety and I were stoked. Captain Greg Moon picked us up at the front door of the Hampton Inn and Suites- New Orleans Convention Center at 5:30 a.m. Fortified by a hearty low country breakfast and PoBoy sandwich lunch takeouts, we took a 30-minute drive to Hopedale ramp where Greg launched his flats fishing boat.


During our three days, the weather featured a September that behaved more like summertime. This included challenging conditions such as thunderstorms, rain, and a high water level. Captain Greg successfully navigated the weather challenges. However, the remaining issue was the high water, which tended to spread fish out as well as make it harder to see them in the water column. Greg led us to success by choosing two sets of fish that were available despite the water depth. The first task was locating some huge schools of redfish that were simply staying in certain areas for the last few days. The second was to search the passes for breaking schools of huge jack crevalles and bull reds that were feeding on big shrimp and small mullet in the passes.


We were at a distinct advantage since I'd brought a light spinning rod and reel. I'm grateful to Captain Greg for accepting it since he is a fly fishing guide, but I know he was reassured that our ability to probe the depth with light tackle would bring us success. The go-to lure was the D.O.A. Baitbuster. When the dust of the whole trip settled, we emerged with five redfish over 30 pounds and a good share of giant jack crevalles.  A highlight of the trip was a trophy 40-pound alligator gar I took while fishing gar on 10-pound spin and a jig. The trip was wildly successful!


For more information about fishing for autumn redfish, visit Redfish Autumn Run article at Bass Pro Shops 1Source.