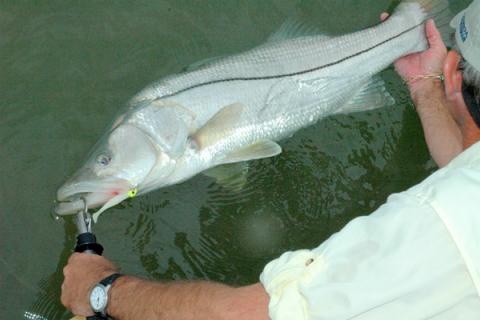 Snook are Florida's premiere inshore gamefish. There are tens of thousands thriving along the state's west coast these days, but the species can be surprisingly difficult to catch for visiting anglers without a bit of guidance. Here are a few tips that might put you on that first linesider: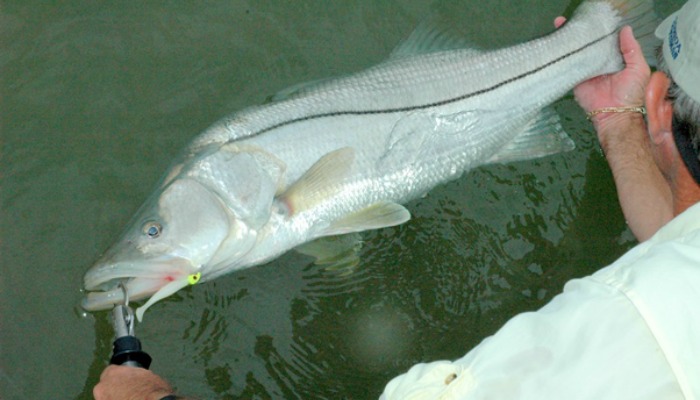 Treat landed snook with care. Hoist them for a quick photo with one hand on the jaw and the other on the tail, then swiftly get them back in the water to fight again.
1.    Stick to prime spots like Tampa Bay, Charlotte Harbor and the southwest Everglades—lots of other areas have snook, but not in the densities of these exceptional waters.

2.    Snook feed on strong tides, and the strongest tides are the three days on either side of the new and full moons each month.  Try to slate your visit for this period.

3.    The easiest time to catch snook is during the summer closed harvest season, which is from May 1 to August 31 on Florida's west coast. Pressure from other anglers is reduced, and the fish are massed in the passes where they're easy to find.

4.    There's not a more exciting strike than a big snook savaging a topwater.  One of the most effective is the Bass Pro Shops XPS Walker. Fish it around mangrove edges, working with the tide flow where possible.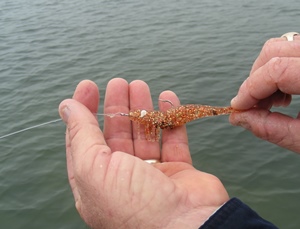 D.O.A. Shrimp can be effective at bringing schooling snook to the boat.
5.    Baits with shad-type tails such as  the 6-inch XPS Shad and the 4.5-inch Sassy Sally also do the job.  They're particularly good fished weightless when you find snook in shallow grass. Tie on a jighead in deeper areas.

6.    Plastic shrimp such as a DOA Shrimp in the 4-inch size are also highly effective. Fish them exactly like live bait, casting upcurrent to sweep through the fish with the push of the tide.

7.    When all else fails, opt for live bait—scaled sardines are the primo bait. Fish them on size 1/0 short-shank hooks with a 25-pound test fluoro leader to prevent cutoffs. Live pinfish drifted just off bottom in passes can also be deadly for larger fish. If none of these are available, select or jumbo shrimp can work well.

8.    Snook tend to school tightly during the summer spawn.  Where you catch one, you may catch a dozen if you fish quietly and don't get too close to the school.

9.    It's possible to catch snook from shore or by wadefishing in many areas, particularly where deep cuts or sloughs run close to shore. Riprap jetties around the passes are prime areas. Remember that you'll rarely catch a snook with a bait that's anchored to bottom. Cast upcurrent, let the lure or bait come down with the tide as you take up slack, then reel in and cast again.

10.    When you land a snook during closed season, treat it with care—one hand on the jaw, one on the tail as you hoist it for a quick photo, then back over the side to fight again.


You can learn more about sight fishing for snook fishing here: http://1source.basspro.com/index.php/component/k2/74-saltwater-fishing/1817-key-factors-to-sight-fishing-snook-from-the-beach.