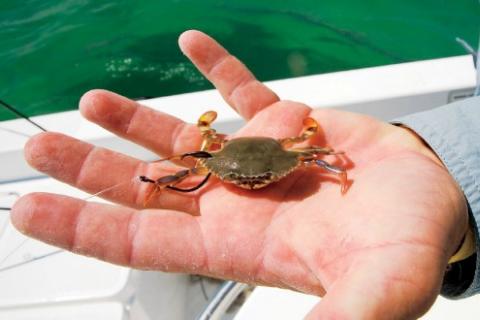 Redfish, tarpon, and pompano all have one thing in common—they can't turn down a crab snack. While live crabs are often the appetizer of choice, trapping or catching them can be a real challenge. The good news is that there are some very good crab imitations that are a whole lot more durable and easier to handle. Here's a look at some good options.


The GULP! options and similar soft plastics—including the DOA Soft-Shell Crab—are particularly effective on reds that have been heavily pressured.  These fish may run from a standard jig or swimbait, but they never spook from scented bait sitting still.


One of the best is the Berkley GULP! Saltwater Peeler Crab, which not only looks like a crab but smells like a crab, apparently. I've watched redfish on the flats come from down current straight to these baits lying dead on the bottom. Even better, although often more messy, is the bulk tub that allows each bait to bathe in a tub of scent.  These things put out an amazing scent trail, and can be reactivated by dropping them back in the solution for 10 minutes or so.


The Offshore Angler Peeler Crab is great when reds are prowling needle grass flats. It includes a small protrusion on the right side that allows Texas rigging it with a 4/0 hook, which creates a completely weedless bait.  This lets it excel where other baits will get hung up or snagged.


All of these lures have a very natural drift when fished, unweighted, in tidal areas. The trick is to throw them into the rips where currents of different speeds interface.  To find these look for lines of sea weed or flotsam on the edges. They may also be indicated by abrupt changes in water color.


These lures can also be drifted on long lines behind the boat—a great way to hook up with tarpon on outgoing tides throughout the warmer months.


The Savage Gear PVC 3D Crab is an incredibly lifelike presentation, made from 3D scans of a live crab, and with air-filled claws that wave when the lure is moved.  It is a great sight-fishing bait when paired with the company's 3D Crab Standup Jighead.  As the name indicates, it sets the crab in a standup position that looks very natural as it scoots across bottom.


Pompano also love crabs, but mostly prefer the smaller mole crabs found along sandy beaches and generally called "sand fleas". One of the best imitations of these baits is the GULP! Sand Crab/Flea.  


It is a tiny soft plastic that's just 1-inch long, but it's loaded with scent that pulls these tasty speedsters in fast. It is typically fished beyond the outside bar on a beach, as well as around strong runouts when there's good wave action.

On Florida's west coast, pompano also prowl well inside the lower bays, and they can be caught on these crabs by easing the baits along the "shoulder" of the flats, where the grass ends and the water deepens over bare sand. The sloughs or cuts into the back bays can also be good, with falling tides best.


When shellfish is on the menu, don't waste time or money trying to use the real thing. Reach for one of these artificial offerings and hold on.