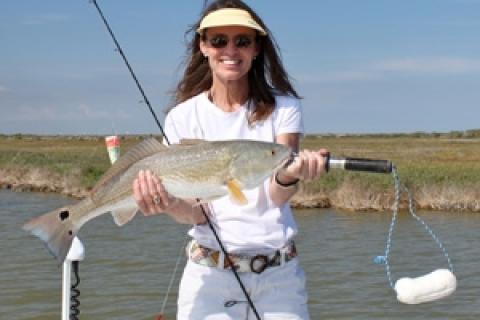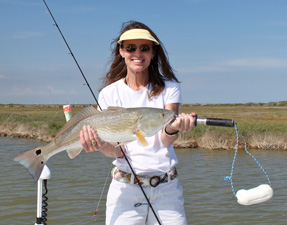 Traveling to South Texas to fish in the famed waters around Rockport often involves hot and windy conditions. Schools of hungry redfish abound, are their cousin the black drum is making a prolific increase in number. The possibility of a mixed bag with trout and sheepshead keep things interesting, but more than likely the shallow water redfish will be making the memories that most will cherish.
Anglers staying at the Redfish Lodge on Copano Bay experience comfortable lodging and easy access to the fishing grounds. When the wind is blowing in the right direction, anglers can literally jump in a boat with their fishing guide right from the private beach behind the lodge. From there it's an easy boat ride to visit spots in Copano Bay like marshy islands, artificial reefs and shell points perfect for a spinning rod rigged with a shrimp under a popping cork.
Brian Holden is the chief guide at the lodge and he has been fishing these waters for more than 10 years. The daily routine at the lodge has guests up early for a 6:30 breakfast before getting on the water. A bag lunch is prepared for both guide and anglers in preparation for the fishing day that lasts until around 2 in the afternoon. Anglers then have time to get cleaned up from a day of fishing before dinner is served that evening.
Sometimes the lodge will transport anglers via shuttle bus to the Goose Island State Park boat ramp, so that visitors can try their luck along the Aransas National Wildlife Refuge. The ICW offers a multitude of places to cast a line, but guides look for areas where the wind is blowing towards the marsh, thus stacking up the bait and the redfish. Live croaker fished under a popping cork will usually get the job done, but cut mullet fished on the bottom is an old standby for roaming redfish.
The waters and marshes of the Aransas NWR are also teeming with wading birds of every shape and size, plus migratory waterfowl and Whooping cranes use this area during the winter months. With warm Texas temperatures present as late as November, there is plenty of time on the calendar to chase redfish. While regular outboards with jack plates are fine for these shallow areas, some guides utilize airboats to put anglers into those hard to reach places that hold plenty of redfish.
When the fishing is good in these saline Gulf waters, anglers can expect a consistent dunking of their cork. Fighting the redfish out from under the motor, or from fouling the anchor line provides plenty of entertainment. At the same time anglers come to appreciate why Rockport redfish are worth the trip, and that it's never too windy to go fishing in Texas.