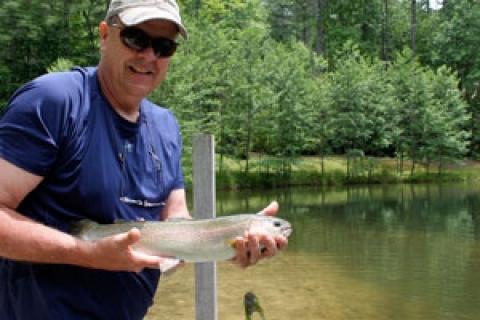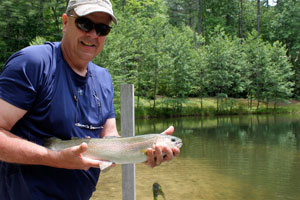 If you're wanting to include fly fishing for farm pond trout in your summer plans, there are a few things you'll need to know.


Rainbow trout are raised in hatcheries and fish runs for the stocking of public waters more than other mountain trout species. It takes cold water to sustain rainbow trout, like at the farm ponds located in higher elevations associated with mountain ranges like the Appalachians or the Ozarks. Many private ponds practice catch and release fishing to ensure that big fish are part of the fly fishing fun.


Fishing Time is Everything
The summer sun can really affect the top layer of water on a farm pond, so remember to think about limiting your fishing plans to morning and evening times. Trout eat bugs and an insect hatch could come off at any part of the day, but the sulphur flies of summer tend to hatch in the afternoon. Use a stream thermometer to check the water temperature when visiting the pond at different times of day to pattern trout activity.


The Fly Fishing Gear for the Job
A 9-foot 5-weight Sage fly rod and reel is a good outfit for most any size of farm pond trout. A size 10 yellow stimulator fly with rubber legs will attract trout feeding on the surface and a zebra midge dropper trails behind deeper in the water. After a few casts it may become necessary to use a Wonder Cloth patch to dry the fly, and always take time to add some Gink dry fly floatant.


Fishing a farm pond means that waders are not required, since anglers will either be fishing from the bank or perhaps from a dock. A landing net with a longer handle may be required like the FishPond Nomad net since anglers are not in the water and the trout will likely will fight harder as it approaches shallow waters. Most modern nets, including the White River Fly Shop nets, have a clear rubber bag that is fish friendly and won't rub off much fish slime.


To release any trout you need a pair of forceps, in order to grab the tiny fly and unhook the fish. Some may require reading glasses when using nippers to tie on a new fly and the Quantum Optics glasses are unique in that they are foldable, fitting compactly in a case that attaches to your fishing vest using a carabiner.


Be Mobile, Fish From Different Locations

Farm pond trout that have been released a few times begin to get shy to any sort of routine, so remember to fish from different locations from time to time. And you may have to employ a float tube to reach the trout if they are staying deep and toward the middle of the pond.


It's the ease of access that makes farm pond fishing for trout enjoyable, and playing a rainbow with shoulders brings a new challenge to fly fishing for mountain trout.