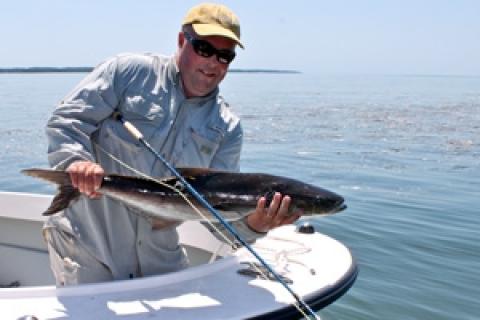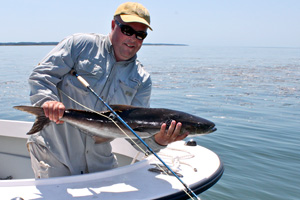 The Memorial Day holiday weekend gives anglers a chance to get on the water in pursuit of a cobia. These saltwater fish are prized for their fighting ability. When not practicing catch and release, they are also known for their fine table fare. Both inshore and nearshore, the chances of crossing paths with a cobia are best in early summer, in what should be a true test of your tackle.
While fishing with Capt. Danny Rourk in the Broad River, I used a Temple Fork Outfitters rod with medium-action during a 20-minute fight. The rod stayed bent during the entire fight, while the Shimano Stradic reel spooled with 20-pound Power Pro peeled line each time the fish sounded. We were sight fishing during flat calm conditions, until the big cobia showed up.
The full moon in late May encourages the breeding cobia to head upriver with the flood tides, and this is a perfect time to search them out. Debris on top of the water consisting of dead spartina grass and assorted flotsam and jetsam provides a type of camouflage or cover for these cruising fish. Keep your rod in your hands, baited and ready for a reaction cast to any cobia spotted.
My terminal tackle included a Cajun Thunder popping cork and a live eel rigged on a J-hook. Motoring along slowly using the engine just above neutral, we saw a small cobia pushing but could not cast towards it before the fish sounded out of sight. "These cobia rise to the top and swim some and then sound, really with no rhyme or reason," said Rourk. "They appear to be on a mission most of the time and I am hoping to just cross paths with them."
Standing on a raised platform in the bow, I spied the 50-pounder swimming directly in front of the boat. I signal Captain Rourk to stop, but the cobia quickly turned 180-degrees and closed the distance to us until it was under the boat. I hurried to the back of the boat and cast the eel into the water. Nothing happened at first but then my cork began to bob up and down in a rapid motion, and next I set the hook into the rubbery lips of the cobia.
If fly fishing, use a 10-weight or a 12-weight fly rod for cobia. Cast a big and flashy streamer pattern that is comparable to a tarpon fly. The bigger and the flashier the fly the better, but a simple weighted eel pattern can work too. Remember that cobia hang around structures like channel markers and they can also be found tagging along with a sea turtle or even a large ray. Reading the water for these telltale signs is always a part of any successful fly fishing trip.