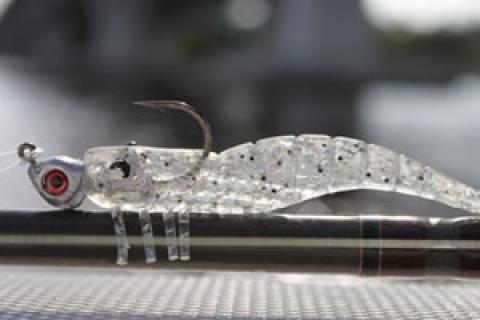 The original 3-inch DOA Shrimp is the gold standard in the saltwater fishing realm. It's perfect balance and quarter-ounce weight give it the slow to neutral falling action that imitates a shrimp. The lure is ready to use right out of the package with downward facing legs and pre-rigged hook, but experienced anglers have found that the shrimp can be rigged other ways as conditions change.


This shrimp sinks so slow that some require a learning curve about how to retrieve it. Many work the DOA shrimp too fast, and a good solution is to rig the shrimp underneath a popping cork, which allows anglers to visualize the proper motion. The DOA Deadly Combo may actually outfish live shrimp in this configuration, since the combination of noise and a wounded shrimp presentation sounds like a dinner bell for redfish and trout.


Deep Water DOA Shrimp Rigging 
For deeper water conditions, or for fishing where the current is stronger, anglers will rig the DOA shrimp to be heavy-style. Using a CAL jig head on the tip of the shrimp provides extra weight to cast farther. When fishing at bridge pilings the jig head takes the lure down to the deeper waters where the fish are lurking. The original DOA shrimp is 3 inches, but you can move up to a heavier 4-inch shrimp that offers a broader body and profile.


Shallow Water DOA Shrimp Rigging
In extreme shallow water, use a DOA 3.5-inch Long Neck hook to rig the shrimp weedless. Then trim off the flipper or fan from the back of the shrimp to reduce drag. Finally, add a DOA glass rattle into the belly of the shrimp so that the fish can hear the lure as it probes the mud flat looking for a strike. Sometimes it takes fine-tuning the rattles and weight in order to diagnose what the fish want on different days.


Tip: Use CAL shad tails to prospect for fish, and then stop and switch to the DOA shrimp to really cover the water column.


Whether fishing shallow or deep, with stealth or without, rig up using a DOA B.O.B. kit to see why these lures are called Deadly On Anything.