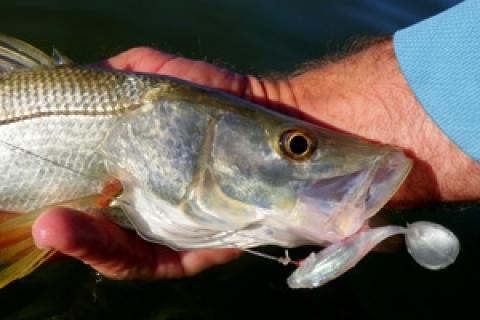 It looked like our skiff would be swallowed by a solid wall of mangroves, but Captain Jeff Legutki banked the Hell's Bay Whipray into a leftward arc, revealing a good sized "cathedral"-style opening right in our trajectory about forty feet off our bow. As my sigh of relief tapered off, we flew into the portal, which began our watery path through the cool shadows of these large trees, all of them so spidery-looking with their multi-footed roots.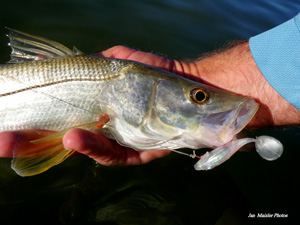 The backcountry bouquet rose up, full of sulphur, mud, leaves, tannin, and salt. The sound of Jeff's outboard engine kept a sustained whine as he expertly snaked through the turns of the canopied canal.
Though Jeff seemed to know this "beat", he offered me a smiling aside of "maybe we're getting lost", fully knowing my preference for open expanse flats — not all this encroachment! Moments later, his next turn to the right showed an opening out of the bush, which gave way to an open expanse of a turquoise-colored bay.
As soon as we left the mangroves, Jeff eased back his throttle, then cut and tilted up his engine. Suddenly we were wrapped in the surround sound of silence, save for the occasional syrupy plops of wavelets on the hull. It seemed that nearby Naples was a million miles away.
Jeff grabbed his pushpole and climbed up on the poling tower over his engine. He said it was still early enough to try "topwaters" for snook and motioned for me to grab a braid-loaded spinning outfit topped off with a Storm Chug Bug. He began poling us towards a small canal not far from the opening that we'd come out of. The spot looked like an ideal ambush area as it spewed an ebb tide that would transfer backcountry forage into the open bay. As we slowly got within proper casting distance, I could easily imagine my plug disappearing in a big "toilet-flush" suction-style strike. But this was already the second day of our adventure and a tale properly told ought to begin at the start.
Beginnings
I became aware and made contact with Jeff through his thorough fishing reports. Jeff's writing made it clear he was an ardent inshore and shallow water fly and artificial lures captain. Perusing his excellent web site sealed the deal for the next step in giving him a call to fish the abundant waters of Naples and the Everglades.
In my talks with Jeff, I found out that he maintained a very busy schedule of guiding for snook, redfish, and tarpon in a twelve-year career that mixed long productive hours on the pole along with the joys of fatherhood. Jeff told me that he fishes about 90 percent fly fishermen and 10 percent spin/light tackle anglers. His guiding season from Thanksgiving to July was out of Chokoloskee, July and August in the Keys and around Florida with the World Angling Production team, and September through October from Pine Island down to the Glades for the fall tarpon and redfish bite. He made it perfectly clear that it was the action that would determine where he would trailer his Whipray to the final daily fishing and guiding efforts.
Jeff is also a core crewmember of the World Angling fly fishing production team. After I screened their video productions, I came to the conclusion that their vision goes further than the fly fishing life. It is also an homage to the sight fisherman's inspired pursuit of wild fish in wild places. So much of their work features exciting, tack-sharp footage, great sound tracks, and the kind of unpretentious, full-bodied humor that shatters the older stuffed-shirted pretensions. I loved their vision and the day-to-day life they epitomize.
Between both of our hectic schedules, we finally were able to set aside a Friday and Saturday in August 2010. Though we both knew that weekdays would more surely guarantee success, these were the best days I could come up with because of my other responsibilities. It bears repeating that these plans were made months in advance, since Jeff as well as other top guides are sometimes booked a year in advance. I reserved my accommodations at the lovely Bellasera hotel in Naples. It was also a logistic relief to know that Jeff and the Bellasera would be a straight "shot" across Florida from Fort Lauderdale to Naples via Alligator Alley.
Day 1
We began our first day getting an early start so we could try for tarpon in the dark as well as during the sunrise "bite period." We launched a bit south of Naples in the Rookery Bay area. All it took was a short idle to the large bridge a hundred yards away and we could see tarpon blasting minnows that were being swept with the outgoing tide. We tossed all size lures at them, but they were reluctant to strike. Jeff was sure that a small fly would probably get some eats, but at my request we moved on.
We hit some dock lights that resulted in some big ladyfish releases. Since the sun was rising, Jeff fired up and headed west into the backcountry to try for some laid-up and rolling tarpon. We got to that location within fifteen minutes and soon Jeff was poling me towards some small rolling tarpon. I was rigged with a small topwater plug resembling the old Zara Spook. I made some good casts and had quite a few excellent strikes over the next hour. Both of us knew that a bucktail would have gotten more hookups, but the plugs were just too much fun to switch from.
As the sun rose up, the tarpon seemed to disappear. Jeff fired up and headed for the open Gulf and the adjacent beaches. In seemingly little time we were casting into schools of showering minnows close to the sand. We did not hook any snook here, but we caught good numbers of mackerel and ladyfish.
We finished the six-hour day by working some schools of small snook inside Keewaydin Island. We released a good number of the linesiders on a small paddletail swimbait that looked just like a minnow. By then, the heat was oppressive and I asked Jeff to call it a day.
Day 2
As Jeff launched his skiff the next morning, I was encouraged to hear his announcement that we'd focus on snook. Before sunrise, we bypassed the bridge tarpon and headed for some dock lights. Interestingly, most of the homes had the "snook lights" off or the bulbs were burnt out. We saw a few fish, had some strikes and a few releases. We even caught some big hard-fighting ladyfish as the sun came up, but Jeff knew he'd have to head west into the mangrove country to try for snook while the light was low. In contrast to the live bait guides, Jeff has to fish certain flies and lures based on lighting and water conditions, so too much sun would force us to go to sub surface plastic swimbaits.
We might still be able to use topwater plugs, but we'd have to get there fast. And Jeff did so, which brings us back to that tempting little canal. Jeff broke into my daydreaming about "toilet-flush" suction-style strikes by telling me we were close enough for me to cast. My first cast landed in the center of the opening and I slowly popped it back to our skiff. Jeff asked me to cast it to one side of the canal and more into the shadows of the mangrove branches.
My next cast followed his orders and on the second pop, the plug disappeared in a big splash. I waited for the weight of the fish to pull the rod tip and then I struck it hard. The fish tried to run into the roots, but I dug my rod tip into the water and fast stroked it back out. During my battle, I saw Jeff cast to that sweet spot and hook up quickly himself. Soon, we were both releasing snook in the 6-pound class.
We released a few more snook from that spot, but then Jeff pulled his pushpole out of the mud and poled towards another canal opening. We released about six more snook from our new honey hole. This became the pattern for hunting down those marvelous gamesters that morning. Two highlights were a massive yard-wide strike under my plug that would not return and Jeff's losing a very large snook to the mangrove roots. By the time the sun was brutally hot, we released about 15 to 20 snook. I was grateful to call it a day and look forward to another trip with Jeff in his shallow water paradise.
Bellaserra Hotel
The marvelous Bellasera Hotel is inspired by the cultures and ambiance of Tuscany, Italy. It features 100 studio, one-, two-, and three-bedroom suites. There are comprehensive features and offerings here: courtyard and waterfall, heated swimming pool and whirlpool spa, sundeck with cabanas, poolside food and beverage service, fitness center, 24-hour room service, catering for private meetings, large boardroom and extensive meeting space, business center, gift shop and Esterra Spa. And, much more.
Our suite at the Bella Sera was exquisite and left nothing to be desired. The cuisine at ZiZi Restaurant was excellent as were the beverages and service. Clearly, this property is a five-star destination and I'd gladly go back tomorrow. The Bella Sera is perfectly located in Naples, making it close to all of this wonderful city's offerings.
About Naples
Naples is one of Florida's flagship cities and one of this state's most elite and multifaceted vacation and residential venues. Its' beaches are world renowned for offering a huge sugar-sand expanse that comes into full regalia during sunsets that offer the best colors of rainbows.
Naples has some of the finest hotels in the world, which are supplemented by a variety of lodges that appeal to the entire spread of traveling international or American families and/or friends. This wonderful city concentrates on areas of shopping, art galleries and restaurants that are endless sources of fun, pleasure, and adventure that will surely make lifetime memories. Golfers will find super courses and nature lovers have the marvelous Everglades close at hand for exploration and world-class fishing.