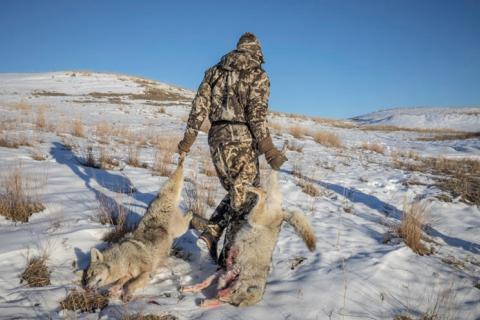 There is a completely different style of calling predators which is referred to as "contest style" hunting. This is a fast paced style that requires the hunter to have the mindset during the hunt of getting as much done in the shortest amount of time as is possible. This style of calling was created by hunters competing in calling contests, yet it can also be beneficial to the everyday coyote hunter when performed properly.


What is Contest Style Hunting?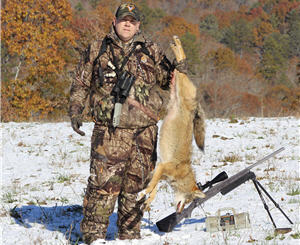 Every year many predator hunters will hunt in coyote calling contest held across the United States. This is a competition style hunt that typically consist of two man teams, but can be more or less per team depending on the rules of that particular hunt. Most of the time the contest will be a one or two day event in which hunters are only allowed to hunt a certain amount of hours in one day until the contest ends. Whichever team has the most coyotes at the end of the scheduled time wins the contest and prizes. Sometimes contestants compete for large sums of money . With only a small time to hunt this is where the term "contest style hunting" comes from. Hunters will hunt at a fast pace all day so that they can cover as much hunting ground as possible.


The benefits of hunting coyotes and other predators are many. Such as: Managing the population, reducing the impact of eating other game, family pets or livestock, they spread disease etc. Predator hunting contests can be beneficial by training new hunters, protecting the local wildlife by taking out coyotes and bobcats, raccoons and other predators. You'll find passionate predator hunters ready to test thier skills and young hunters eager to get involved.


How Long Does a Typical Stand Last When You're Fast Pace Hunting?

Referring back to the most often asked question... "the length of time spent on a particular stand?"


It is one of those questions that seems to have many different answers depending on who is asked. Several factors can make the answer different, things such as how much land is being hunted, and if the land will be hunted again.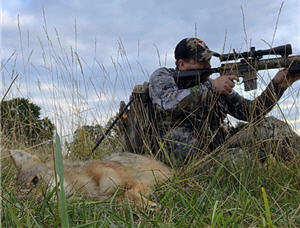 Normally I would say that I stay from 25 to 45 minutes per stand before moving to the next location. However, when hunting in a fast paced or contest style, I will have 2 or 3 calling sequences that will last a couple of minutes, all the while staying on the stand for a total of no more than 20 minutes. The thing to remember is that I usually only do this style of predator hunting when there is a lot of land to cover and I'm hunting a short period of time. For example, when traveling out of state to a place where I can only hunt for a couple of days, or if I am actually competing in a predator calling contest.



Tip: Another great time to use a fast paced style of hunt calling is when acquiring a new piece of land to hunt. Covering a lot of ground in a short period of time, allows the hunter to see if there is indeed coyotes in the area, as well as what the landscape has to offer.


Pack Your Backpack Light With Key Hunting Gear
When hunting a fast paced style of predator calling, it is more than likely that a lot of walking is going to be involved. This is why it is important to pack light yet still have what it takes to make several stands. Having a well designed backpack allows you the ability to maximize your carry efficiency for your gear. The Alps Outdoorz Trail Blazer Camo Pack has a 2,500-cu-in capacity and has hydration compatibility as well as equipped to carry an extra rifle, perfect for hunters who like to carry a rifle and a shotgun when predator hunting.



Tip: Cabela's offers a full line of high quality Alps Outdoorz hunting accessories and the Alps Outdoorz Trail Blazer Camo Backpack.

An electronic predator caller is also something that I always have on hand when I know I will be doing a lot of walking. I will choose a smaller light weight caller such as the FoxPro Fusion Game Call With Remote, this call is equipped with a lot of sounds, yet is smaller in size, making it easier to put in my backpack to carry from stand to stand. I will also pack a couple of different types of hand calls that will not take up much room or add much weight the load I'll carry. You'll have an advantage if you have electronic and hand calls on hand. The setup provides a variety of calling choices to choose from, a good strategy when making multiple stands.



Tip: Bass Pro Shops has a great assortment of predator calls and coyote calls.

What Coyote Calling Sequences Should You Use for Faced Paced Hunting?
My favorite coyote calling sequences is to use a coyote howl at the beginning of my sequence, then waiting a few minutes before starting some type of distress sound to try and lure a coyote into calling range. If that doesn't work, I will then change sounds and continue for another complete calling sequence. Note, my sounds do not change much when I'm calling fast paced, however, my length of playing time does.


When I'm fast paced hunting I will still start off with howls, but will only wait about a minute before going directly into my next sound. I will also not play a variety of sounds. If nothing comes in after 5 to 6 minutes of distress sounds I will change to a coyote pup distress sound then end it after the 15 to 20 minute mark if nothing shows up.



Tip: Change the types of calls on each stand. Instead of trying 2 or 3 different rabbit distress sounds, followed by multiple rodent distress sounds all in one stand, try using rabbit sounds on one stand, then a rodent in distress on the next, then maybe bird distress sounds on the next. This way the hunter is still using a variety of sounds yet still covering a lot of ground.


Clothing Can Make or Break a Day of Hunting

The way a hunter dresses can make or break an all-day predator hunt. When hunting a large area where a lot of walking is required it is important to wear clothing that will keep the hunter warm, yet be breathable enough to keep them from getting too hot when walking. Hunting garments such as ScentLok Men's Savanna Crosshair Jacket are ideal. This type of camo jacket is light enough to wear while walking from stand to stand, plus has odor absorbing technologies that keep the hunter scent free even when perspiration is at its highest.



Tip: Find other ScentLok performance, hunting and odor-controlling clothing, footwear and equipment and the ScentLok Men's Savanna Crosshair Jacket at Cabela's.


Footwear is the most important piece of the hunting attire the hunter is wearing. It is is crucial to have a boot that is comfortable, lightweight and able to keep a hunter's feet dry. The Danner High Ground Insulated Hunting Boot is a good choice. They make your feet feel like you're wearing a pair of tennis shoes plus support and odor protection when having to walk from stand to stand throughout an entire day.


Calling coyotes using a fast paced style of calling is a technique used by many successful predator hunters. If one doesn't have much time to hunt, has a large area of land to cover or is competing in one of the many calling contest held each year, they will find that this tactic can be very successful if equipped with the right gear and the right plan to make it happen. If one will try it on their next calling opportunity they too will reap the benefits.