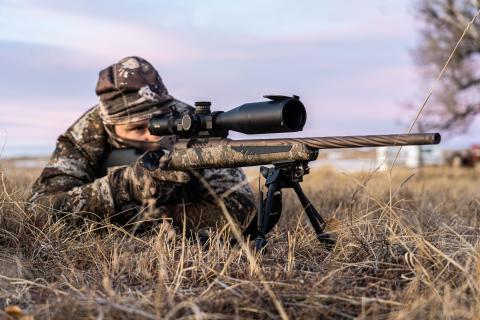 A factory rifle that can be customized to fit any shooter
By Mat Brost
The Hype Around Savage's AccuFit System
A job in the hunting industry allows me to be one of the first to hear about new products and upgrades to existing products. When the excitement and buzz over these products lasts more than a couple months, that's when I take note and check the product out for myself.
A hunting-industry partner first explained Savage's AccuFit system to me around a year ago. He had just gotten one for an upcoming elk hunt, then his wife was going to use the same rifle on a mule deer hunt to prove the rifle's adaptability and versatility. I didn't think too much of it until a year later when a different partner was doing a similar test, except these guys were going to a variety of states, hunting a variety of species, and each hunt involved a different hunter using the same rifle. The hunters ranged from young kids on their first big-game hunt, to experienced hunters on once-in-a-lifetime hunts. These partners raved over the rifle and ensured me that the AccuFit system was next level as far as adapting a factory rifle to the shooter goes.
The hype within the industry and from friends that had tried these Savages got to me. I did some research and read some reviews, then convinced myself that I HAD to check this rifle out for myself. And I'm certainly glad I did.
I switched the length-of-pull spacers around until I found the perfect fit. Then swapped out combs from shortest to tallest. On the third comb height I tried, as soon as I shouldered the rifle, I knew I was holding the best fitting rifle I'd ever shouldered. It was amazing. I've always adapted to my rifles. For the first time in my life, my rifle adapted to me.
After browsing the AccuFit lineup, I decided to go with the 110 High Country model. It came with the AccuStock and adjustable AccuTrigger that has made Savage a leader among rifle manufacturers. The two features that really sold me on the High Country model, however, was the threaded muzzle and PVD-coated barrel and receiver. The PVD coating is insanely durable. I haven't truly put it to the test yet, as this was my first season with the rifle, but research indicates that the finish is virtually indestructible. I feel bad when the blueing fades and rubs off my other rifles. I know it's inevitable with a hunting firearm, but the last thing I should be worrying about when I'm hunting is if I'm dinging the stock or damaging the finish. That's certainly a non-issue with Savage's High-Country. The True Timber stock is a cool feature as well since it matches the Strata camo I generally wear.
Best Caliber for My Needs
The only tough decision with this purchase was selecting a caliber. I've always hunted big game with a .308. Not because it's my favorite cartridge or anything, it's just what my dad always used, and continues to use. It's what I grew up using, and I never had a reason to use anything else. Aside from a bit of a sore shoulder after a session at the range, I have never had anything to complain about. But there had been another caliber getting a huge amount of publicity.
Six years ago I was editing an article for a long-range shooting instructor. His article focused on the 6.5 Creedmor replacing the .308 as a leader in long-range shooting and big-game hunting. I remember thinking, "no way – this guy's crazy – you cannot beat the .308's versatility and accuracy". The .308 is established with both hunters and range shooters. Ammo is readily available from every manufacturer and there's no way you'll get families like mine to convert. Between my dad and I, we probably have six .308 rifles.
Fast forward six years. Every ammo manufacturer has at least one line of ammo for it. Every major rifle manufacturer has a rifle chambered in the caliber. The buzz and hype around the 6.5 Creedmoor is still there, and I've done my research and want one.
I live for predator hunting when deer season wraps up. Calling coyotes is perhaps my favorite type of hunting. I've typically used a 22-250 for predator hunting, and a .308 for deer and antelope. I felt the 6.5 Creedmoor would be a perfect fit for both. The coyotes I hunt are primarily for predator control around ranches where calves are being harrassed and killed. Fur condition is secondary compared to eliminating coyotes. The long-distance consistency and versatility of this round is great. I reload 95 grain Hornady bullets for coyotes. The extended range compared to my .22-250 is awesome when those coyotes stop at a distance. And with the threaded muzzle, I can easily attach a suppressor. For deer season this year, I went with Hornady's Precision Hunter line for the exceptional ballistics of their ELD-X bullet.
The AccuFit system truly revolutionized the factory hunting rifle. I was amazed with the fit and feel I was able to achieve with the included combs and shoulder spacers. Like I said earlier, I've always adapted to my rifle. This is the first time that my rifle has adapted to me. Savage's 110 High Country is a fine rifle that will serve me well across all seasons.