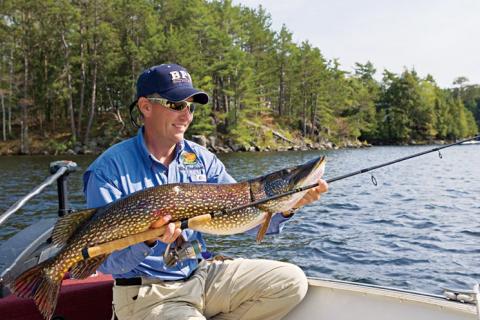 In some respects the fall fishing season can be difficult for anglers because of cold weather, rough water and the weed beds dying off. However, for the dedicated pike fisherman, these conditions can equal success. In northern Wisconsin, the cooler fall water temperatures activate the bite for big northern pike as they try and pack on weight for the upcoming winter. This can move these toothy predators into predictable locations that anglers can target.


Autumn is one of the best opportunities for anglers to target large pike. Dress warm, find the green weed
The Best Fall Pike Fishing Pattern
The best pattern I can give fall anglers when targeting large pike is to keep an eye on the water temperature of their favorite water bodies. As it starts to cool, consistently check weed beds for color, and density of cover. As weeds start to die off in the cooler water temperatures, they will deteriorate and turn brown. These dead weeds will no longer produce oxygen, hold aquatic insects or be good cover for bait fish and thus are less attractive to big pike. The key here is that not all weed beds die off at the same time. Whether it is water depth or sun exposure, some weed patches stay green and healthy well into the winter months.



Tip: Large pike are attracted to green weed areas in the Fall


Where to Search for the Large Pike
Spend time searching the edges of the weed flats to see if they are green or not. If the weeds are in water too deep for you to see them, use your electronics and look for weed beds with tall, vertical weeds. Large pike will be attracted to these green weed areas. And with only certain weed patches staying alive, this will concentrate the amount of fish holding or working a patch of weeds so anglers should work the beds thoroughly. I like to work the beds by fishing the outer edges first then moving into the thickest part of the weeds. This approach allows me to pick up several fish as I move through the patch without scaring others.


As far as baits are concerned, for fall pike fishing I like to use large shiny or action heavy fishing baits. If the weeds are dense and tall, then a tandem spinner bait or weedless spoon should be your go to tackle. In sparse weeds, try hot colored jerk baits or swim baits.


For more information about what lures to use for pike fishing, visit Sorting Through the Pike Lures at Bass Pro Shops 1Source.