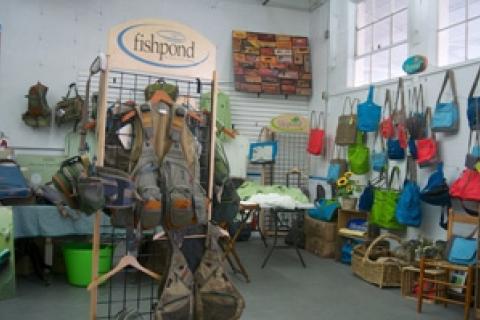 Standing in the parking lot of a small fly fishing brand in Denver, I am surrounded by the sights and sounds of an industrial park. But as I open the front doors of Fishpond, I step into a world dedicated to the outdoors.

Twin brothers Ben Kurtz (left) and Will Kurtz, along with founder John LeCoq, are partners in Denver-based Fishpond, which produces fly fishing gear found in retail stores nationwide — including Bass Pro Shops.
Dogs run between a decorative canoe and dozens of fly fishing vests hanging on display racks. Large photographs of mountain lakes decorate the walls and a pair of backcountry skis sit tucked in the corner.
John LeCoq founded Fishpond in 1999 to address what he felt was a shortage in technical fly fishing gear. Twin brothers Ben Kurtz and Will Kurtz bought into the company in 2012 as the company operations in Kansas and the design office in Dillon, Colo., were moved to their current space in Denver.
Today, the company has more than 150 products and annual revenues of more than $2 million. The company makes vests, backpacks, tackle bags, coolers and fishing nets and more. Several of its new products are made from nylon reclaimed from retired nets used by commercial fishers.
I asked Ben Kurtz, a co-president of the company, a few questions to learn more about the brand:
1Source: Why did you guys decide to buy into the company?
Ben Kurtz: Because the timing was right with an interest in swapping partners, and we were able to bring a needed skill set/perspective to the business.
What is your background with fly fishing?
Kurtz: We both were fishing guides in the Vail Valley and have grown up fly fishing since an early age. Also I worked intimately with the company for 3-plus years before coming into ownership.
What is it that attracted you to Fishpond?
Kurtz: The fact that it has been an industry leader in the fly fishing world and has never swayed in its execution.
What sets Fishpond apart from other fishing brands?
Kurtz: We are family owned and operated, nimble, and have a soul behind our company.
If you could take a trip anywhere in the world to fish, where would it be?
Kurtz: Seychelles Islands.
What's your favorite place close to home?
Kurtz: I try not to give away any secrets but Summit County (Colorado).
What is your favorite product that your company has developed yet?
Kurtz: Our Westwater line of products. I personally use almost every piece and it crosses over well with my lifestyle.
You guys are using recycled fish net for pack material; what do you hope that will accomplish?
Kurtz: We hope to keep minimize our impact on the environment and make a statement that companies can have technical fabrics that are not crude based.
What are your goals for Fishpond?
Kurtz: To continue to be the industry leaders and help our consumers relate to us on a deeper level.
Where would you like to see Fishpond in five years?
Kurtz: Holding true to our heritage and leading the industry in creative and innovative ways.
What is the future of fly fishing?
Kurtz: The future of fly fishing is the younger generation. This is the ultimate survival of the sport.