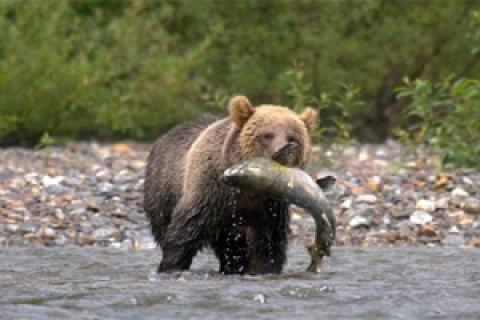 A British Columbia alliance group is creating a plan to save grizzly bears by persuading more hunters to put down their guns in exchange for cameras.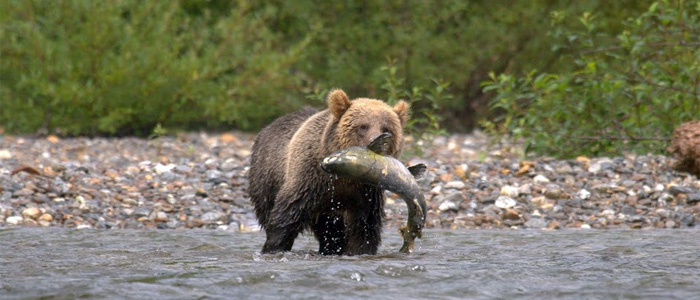 Image courtesy of Spirit Bear Adventures

According to a news release last week by Coastal First Nations, professional bear guides from Spirit Bear Lodge is offering hunters an all-expense paid bear viewing trip "in exchange for a Limited Entry Hunt authorization for grizzly bear within Coastal First Nations territories." The grand prize includes round-trip airefare for two, five nights on a deluxe island and daily adventures into grizzly country with the lodge's guides.
The idea is to teach guests more about First Nations culture, wildlife science and also show off the booming coastal economy.
Spirit Bear Lodge guide and Kitasoo/Xai'xais Stewardship Director Douglas Neasloss said in the news release that bear viewing in the Great Bear Rainforest actually gives more back to the economy — 12 times more than the province's bear hunting.
"It's a fact that bears are worth more alive than they are dead," Neasloss said. "You don't have to harvest a resource to get value from a resource. Bears bring huge value to coastal ecosystems, and to my community in terms of a sustainable economy."
First Nations cited a recent Stanford University study that stated researchers concluded coastal bear hunting actually loses taxpayers money.
According to the report, published in January 2014, estimated direct visitor spending by hunters in 2012 totaled $963,800, compared to $15.1 million for bear viewing visitors.
The deadline for this entry is May 23. For more information on the giveaway, and to see if you're eligible, contact Spirit Bear Lodge.