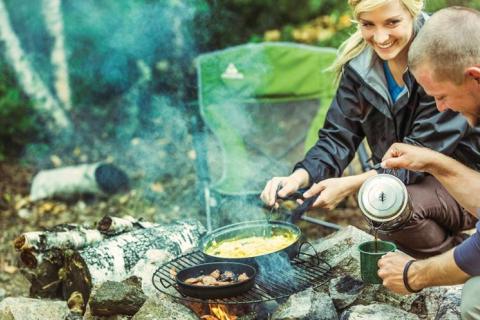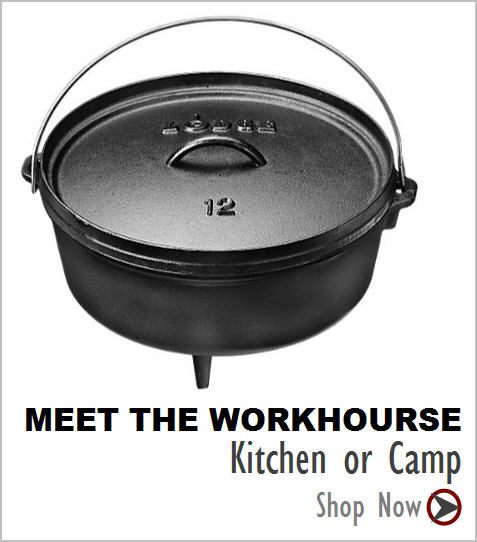 Every now and then, it's fun to whip out the Dutch oven for a tasty breakfast treat - like our caramel cinnamon rolls. But for the majority of backpackers and campers morning meals are often quick, easy, and packed with protein.


Eating a well-balanced breakfast gives your body the fuel it needs to stay energized and strong all the way to the summit. You'll spend more time enjoying the fresh air and less time on food prep and clean up. Fortunately, there are plenty of yummy grab-n-go recipes for kick-starting your body into a camping or hiking machine.


Check out our go-to camping breakfast foods below!



Tip: 4 Ways to Make a Fire Without Matches or Lighter

Shop: Camp stoves and outdoor cookware
---
Wild Parfait Recipe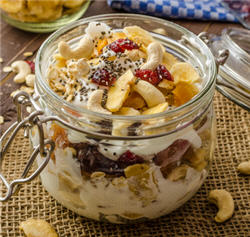 This creamy light breakfast is perfect for those days when you want to get up and hit the trail


SERVINGS: 1
INGREDIENTS:
1 cup plain Greek yogurt
¼ cup dried fruit (any flavor)
¼ cup granola
¼ cup chia seeds (optional)
¼ cup cashews (optional)


INSTRUCTIONS:
Combine yogurt, dried fruit, granola, and chia seeds in a small bowl. Ta-da!



Tip: Play around with adding different fruits, dried or fresh, to keep things interesting!


---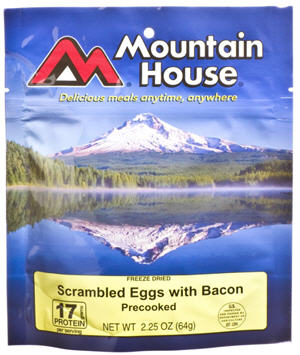 Mountain House™ Freeze Dried Breakfast Food

These hot and tasty meals are a camping or backpacking staple and ready-to-eat in ten minutes flat! Choose from a variety of mouth-watering flavors like Biscuits and Gravy, Breakfast Skillet, Scrambled Eggs and Bacon, and more. These 1-step meals don't require any prep work, just-add-water. How great is that?



Shop for Mountain House ™ Freeze Dried Breakfast foods at Bass Pro Shops.
INGREDIENTS:
Mountain House™ breakfast pouch (any flavor)
1 ¾ cup water


INSTRUCTIONS:
Tear open the pouch and remove oxygen absorber packet.
In a small saucepan bring water to a boil.
Pour water into pouch, stir, and close the zipper. (Careful when pouring, water will be HOT)
Let stand 8-9 minutes.
Open pouch, stir again, and dig in!



Tip: The lightweight pouches are great for easy packing whether you're planning a quick getaway or a long camping trip.


---
Instantly Hot Oats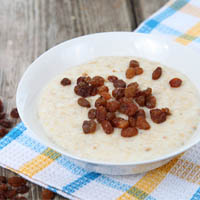 Especially on a chilly morning, this cozy combination will satisfy all of your cravings. The flavor possibilities are endless so feel free to experiment and let us know if you happen upon an exciting new recipe.


INGREDIENTS:
¾ cup instant oatmeal
¼ cup raisins
1 Tbsp. maple syrup
1 cup water


INSTRUCTIONS:
Bring 1 cup water to a rolling boil in a small saucepan.
Pour in oatmeal, raisins, and maple syrup. You're welcome.



Tip: If you have leftovers or you want a mid-morning snack, you can also enjoy this oatmeal cold. Want to spice things up? Add your favorite fruits to the mix!


---
Savory Avocado Toast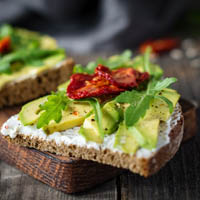 If you're tired of the same breakfast routine try this on for size! While it requires a little prep, the reward of fresh flavor is worth it. This savory toasted delight will have your taste buds running wild.


INGREDIENTS:
1 avocado
1 tomato, sliced (of any variety)
1 piece of bread
Chopped fresh basil (optional)
Salt and pepper
1 Tbsp. butter


INSTRUCTIONS:
Cut avocado in half and remove pit. Set aside.
Bring skillet to medium-high heat, spoon in butter.
Place bread in skillet for 2 minutes, cooking 1 minute on each side.
Using a knife spread the avocado onto the toasted bread.
Top with tomato, basil, salt and pepper. Enjoy!



Tip: If you'd like to amp up the protein, toss a couple strips of bacon in the skillet (with the butter) and make the toast per usual. Once fully cooked, tear the strips into tiny pieces and add on top like a garnish.


---
Berry Nutty Trail Mix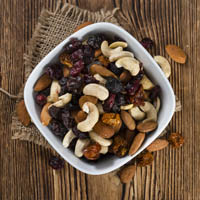 This protein-packed trail mix is easy to make and even easier to take with you. Whether you need a quick morning pick-me-up or a mid-day snack, you won't regret stashing this fruity combo in your pack.


INGREDIENTS:
¼ cup unsalted almonds (use salted if preferred)
¼ cup unsalted cashews
½ cup dried cranberries
¼ cup dark chocolate chips


INSTRUCTIONS:
Mix together almonds, cashews, dried cranberries, and chocolate chips in a small bowl. Easy peasy!



Tip: Cutting back on the sweets? Feel free to substitute sunflower seeds or raisins for the chocolate chips.


---
PB & J the English Way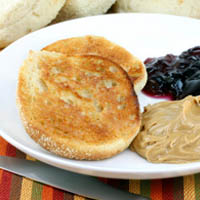 If you're craving something warm and simple, you can never go wrong with peanut butter and jelly. Served warm on a toasted English muffin, you'll be glad you put in the effort. Who's hungry?


INGREDIENTS:
1 English muffin (cut in half)
1 Tbsp. peanut butter
1 Tbsp. jelly (or jam)
1 Tbsp. butter


INSTRUCTIONS:
Heat skillet to medium-low heat and add butter.
Dip English muffins in the butter, coating each side once.
Toast for 2 minutes (1 minute on each side).
Spread peanut butter and jelly on the English muffin.



Tip: You can always add a little raw honey to your PB&J for an extra boost of flavor.


---
Cereal with Almond Milk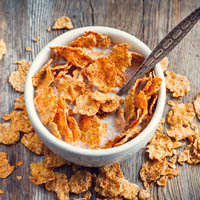 No cooking necessary for this breakfast go-to – simply add a little milk. If you're looking for an energy boost, try eating granola (any variety) or another whole grain cereal.


INGREDIENTS:
1 cup cereal (pick your favorite)
½ cup almond milk


INSTRUCTIONS:
Pour together cereal and milk in a small bowl.



Tip: Looking to punch up the flavor? Add some fresh fruit like strawberries or bananas.


---
Peanut Butter Banana Smoothie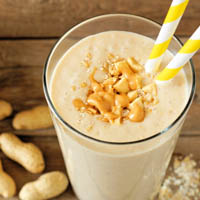 This creamy morning treat is cool, delicious, and ready-to-eat. Packed with protein and creamy flavor that'll keep you going all the way to the summit.


INGREDIENTS:
3 frozen bananas
¼ cup peanut butter
1 ½ cup milk
½ cup plain yogurt
1 tsp. honey
1 tsp. chopped roasted peanuts


INSTRUCTIONS:
Combine bananas, peanut butter, milk, yogurt and honey in a blender.
Blend until smooth.
Pour blended liquid into a tall glass and top with chopped peanuts. Drink up!



Tip: If you want to save time, this recipe can also be made in advance.


---
Fired Up Breakfast Melt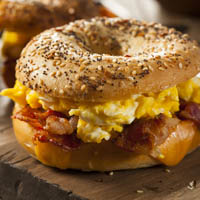 If you're craving a traditional breakfast try this yummy hot sandwich. The eggs and bacon with fill you up and the spicy kick of flavor will have you ready to rock.


INGREDIENTS:
1 bagel, cut in half (savory flavor)
2 strips of bacon
1 egg
Sharp cheddar cheese (slices)
1 Tbsp. butter
Sriracha mayo:
1 Tbsp. mayonnaise
1 tsp. Sriracha


INSTRUCTIONS:
Mix mayo and Sriracha together in a small bowl. Set aside.
Heat skillet to medium-high heat and cook bacon until crispy. Set aside.
Using the same skillet, crack an egg into the leftover bacon grease and cook as desired (fried, over-easy, whatever). Set aside and keep warm (covered).
In the same skillet with the egg, heat up butter and set bagel halves in the pan.
Toast 1 minute, flip halves over and top one half with cheese. Toast another minute (until cheese is melting).
Remove skillet from heat and layer the egg and bacon onto the cheesy bagel – spread Sriracha mayo on remaining bagel half.
Enjoy your breakfast of champions!



Tip: If spicy foods are not your jam, you can also substitute avocado spread for the Sriracha mayo.


---
Crunchy Apple Bites(with Almond Butter and Granola)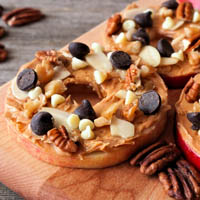 This healthy morning treat is light and fresh and great for camping. The sour apple flavor is met with a creamy crunch, giving you an extra punch of energy for tackling the day ahead.


INGREDIENTS:
1 large apple, sliced into 4 rounds
1 Tbsp. peanut butter
4 tsp. honey
1 Tbsp. granola
4 Tbsp. chocolate chips (white and/or dark)
4 Tbsp. pecans


INSTRUCTIONS:
Cut and core apples crosswise into 1/2-inch thick rounds and arrange on plate.
Mix peanut butter and honey.
Spread peanut butter mixture over each slice.
Sprinkle granola crumbles, chocolate chips, and pecans as desired.
That's all folks!



Tip: You can use whatever apples you have on hand! No judgment here. Don't be afraid to mix and match your toppings too!