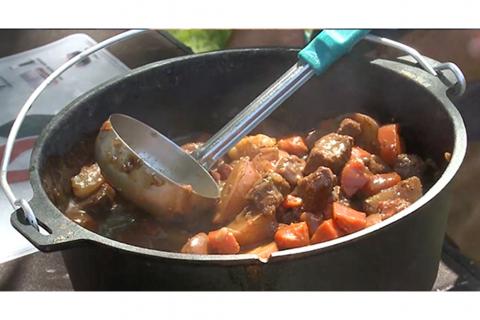 Prep Time: 30 minutes 
Cook Time: 2 hours 25 minutes 
Servings: 8-10
INGREDIENTS
2 tbs butter

2 tbs flour

4 pounds (8 cups) venison stew meat, cut into 2-inch chunks

3 tbs vegetable oil

2 onions, roughly chopped

4 garlic cloves, minced

4 cups beef, venison, or game stock

1 bottle Guinness Extra Stout (or other dark stout)

1 tbs light brown sugar

1 tsp dried thyme

1 tsp dried rosemary leaves

1 oz bittersweet chocolate, chopped

2 bay leaves

5 carrots, peeled and roughly chopped

1 1/2 lbs small red potatoes (creamers), cut in half
DIRECTIONS
1. Toss venison in a bowl with flour, salt and pepper. Heat oil in a large Dutch oven over medium heat. Add floured meat and brown evenly on all sides. Add next four ingredients and cook until onions are lightly browned, about 5 to 7 minutes.
2. Add remaining ingredients except potatoes and bring to a boil, stirring occasionally. Cover and reduce heat to low. Simmer for 1 1/2 hours, then remove lid to reduce liquid and thicken sauce. If sauce becomes too thick, add additional beer or broth.
3. Once meat is tender, add potatoes and cook until potatoes are just cooked. Season to taste with additional salt and pepper.