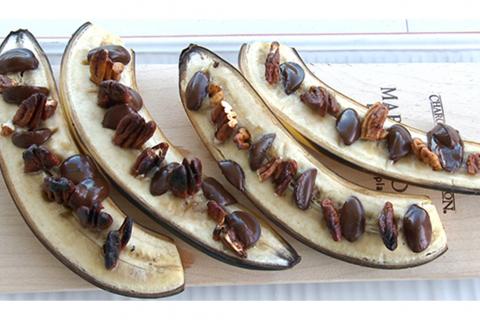 Prep Time: 15 minutes 
Cook Time: 5-10 minutes 
Servings: 4-8
INGREDIENTS
3-4 bananas

1 tbs canola oil

1 small bar milk or dark chocolate, broken into squares

1/2 cup toasted almond pieces

Vanilla ice cream
DIRECTIONS
1. Leaving the peel on, cut the bananas in half, lengthwise.
2. Brush cut side with canola oil and place skin side up on a well lubricated medium hot grill.
3. Grill until grill marks appear, 3-4 minutes.
4. Turn banana over and insert chocolate squares into cut side of the banana. Heat until chocolate begins to melt.
5. Serve immediately with vanilla ice cream topped with toasted almonds.