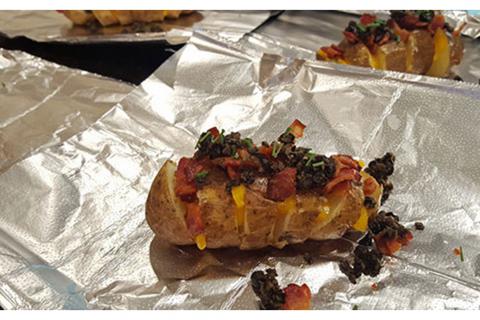 Prep Time: 20 to 60 minutes     
Cook Time: 25 to 30 minutes 
Servings: 6
INGREDIENTS
6 medium baking potatoes

1 to 1 1/2 pounds thick-sliced bacon

30 (1-inch by 1-inch) slices of cheddar cheese

1/2 cup minced or sliced olives

1/4 cup thinly sliced chives or green onion

12 (12-inch by 12-inch) sheets foil
DIRECTIONS
Wash potatoes well and poke four to six holes in them with a fork or sharp knife. Precook potatoes: Microwave on high 5 minutes per side or until soft, or rub with oil and bake in a preheated 400-degree oven 40 to 50 minutes or until soft. While potatoes are cooking, chop bacon and fry on medium-high heat until cooked but not crispy. Let potatoes cool slightly before handling and stuffing them.
Partially cut five slices into potatoes (leaving the bottom skin intact). Place each potato on a double sheet of foil. Stuff a piece of cheese into each slice. Evenly distribute bacon and olives into the slices and on top of the potatoes. Sprinkle each potato with chives or green onion. Wrap foil around the potato gathering the edges at the top. Store in a sealable plastic bag or container in a cooler or refrigerator prior to reheating in camp.
To reheat Camp Potato Packets (allow 25 to 30 minutes for most heat sources):
In a campfire, nestle packets into hot coals at the edge of the fire pit or ring.
Over hot coals, place packets directly over preheated briquettes/coals.
In a Dutch oven, place packets in a preheated Dutch oven, covered, with a solid bed of coals on top and bottom.
In a skillet, place packets in skillet and cover, cook over medium heat, rotating potatoes every five to seven minutes.